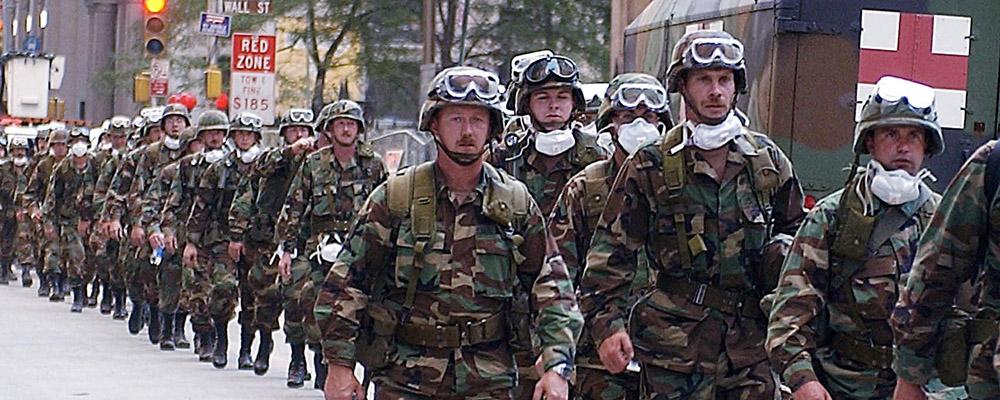 National Guard Magazine |
Fast Start
Starting guns, with fast starts and false starts, are part of the Olympic tradition that was celebrated in Tokyo this summer.
No one could fathom the starting gun that National Guardsmen, and everyone else, experienced on Tuesday morning, Sept. 11, 2001. It was the horror of hijacked jetliners exploding into and then disintegrating the World Trade Center's twin towers in New York City.
It was the scenes of black smoke and flames billowing out of the Pentagon beside Washington, D.C., and roiling over the field near Shanksville, Pennsylvania. It was the images of thousands of innocent office workers and airlines passengers being instantly incinerated. It was the fear of what would be hit next. It was the shock and dismay that America had been attacked, not from outside, but from within.
The memories persist 20 years later.
No one needed to tell Guard soldiers and airmen to start fast that day by getting jet fighters into the air and troops to the armories. They were mad as hell and they weren't going to take any more of it. False starts would not be acceptable.
Lt. Gen. Russell Davis, the chief of the National Guard Bureau, immediately pledged the Guard's complete and unwavering support: "We owe it to our citizens and to the citizens of all law-abiding nations to do all that we can to prevent terrorist actions and to bring those responsible for spreading hate and death to justice."
Guardsmen took their marks for a race that no one could foresee running or for how long. It started as a 100-yard dash. It quickly stretched into a 10,000-meter race. It became a 20-year marathon that is still far from over.
Here's how some Guard soldiers and airmen started the race.
By about 10:30 a.m....my radar scope...looks like it's two o'clock in the morning because there's no aircraft airborne other than fighters.

—Maj. Gen. Dawne Deskins, deputy director of the Air National Guard, who was assigned to the Northeast Air Defense Sector on 9/11
SKY MONITOR: Then-Maj. Dawne Deskins was sitting in the battle cab of what was then called the Northeast Air Defense Sector in Rome, New York.
Her unit, part of the New York Air National Guard, was in the midst of a large simulation exercise known as Vigil Guardian. But the call that came in that morning, Sept. 11, 2001, from an air traffic control center in Boston, was no exercise.
Making her way to a terminal, she first took stock of the report that a plane had been hijacked.
Now a major general and deputy director of the Air National Guard, Deskins remembers the day clearly.
As airmen in Rome reached out to Air Guard fighter units in Massachusetts and Virginia, the sector received another report, that an aircraft had hit the World Trade Center in New York City.
"We did not immediately put those two events together," she said last month. "We didn't know what type of aircraft had hit the World Trade Center."
Then a second plane had hit the second tower.
"This was an aircraft that was not reported to us as hijacked, just an aircraft has hit the second tower," Deskins said. "That to me, at least for me personally, that was the point that I would say in my mind there was an immediate pivot. Two aircraft hitting two towers is not an accident. And we're still being told that a [missing flight] is airborne, so it's not over."
By then, the Northeast Air Defense Sector has scrambled the jets standing on alert that day. Fighters were screaming out towards New York, cleared for supersonic flight.
The atmosphere on the operations floor was never chaotic, Deskins recalled. She said it was quiet and controlled, but a sense of urgency hung overhead.
Sitting in the battle cab, Deskins was among the airmen zoomed in on the National Capital Region, searching for any sign of the missing plane.
"I see an arc of about eight blips," she said. "Eight blips, very, very fast in an arc over the National Capital Region, then it fades. Shortly after that, we're told that the Pentagon has been hit. In my mind, it's always been that's what I saw. I don't know if that's truly what I saw, but that's always what I felt that I saw was the aircraft, as it went into the Pentagon."
With a clearer picture of the ongoing attacks, airmen in Rome, New York began to receive more reports of hijackings. Many would turn out to be unfounded. But at the time, there was immediate concerns. And there were no other planes on alert.
So the Guardsmen hit the phones. They begin calling every Air National Guard wing in the Northeast, asking them how quickly they can get fighters airborne, fully loaded with guns and missiles.
During their calls, another plane was reported hijacked.
"This one is clearly like the first three and this isn't confusion," Deskins said. "It is turning south around Cleveland and then fades off of our radar scopes."
Officials immediately believe the aircraft is heading to Washington, D.C. They began working on plans to bring down the aircraft, to "take lives in the air to save lives on the ground," in the words of Col. Robert Marr, the Northeast Air Defense Sector commander.
As the planning is underway, reports come in that the plane, United 93, has crashed in Pennsylvania.
"That was the last large event. We are still on high alert. The FAA during this time is grounding all aircraft," Deskins said. "By about 10:30 a.m., I would say, I looked at my radar scope and it looks like it's two o'clock in the morning because there's no aircraft airborne other than fighters."
MEDICAL HEROES: Maj. Gary McKay and Master Sgt. James Smith were Army Guard medical soldiers who found themselves in a very bad place at a very good time when the Boeing 757, American Airlines Flight 77, turned the Pentagon into a hell on earth as they were attending a meeting.
They threw caution to the winds and groped and crawled along corridors black with smoke and scorching with heat while helping
get people out of the stricken west side of America's military center. "We saw people running down the hall, lights going off, and we decided we needed to do something," said Smith three days after holding a water-soaked T-shirt to his mouth to breathe.
"A lot [of people] couldn't see because of the smoke in their eyes. They couldn't breathe," Smith added. "They were glad somebody could find them."
The nightmare continued outside after McKay, Smith and other rescuers were driven from the building.
McKay, a physician's assistant, recalled treating a young woman who was failing fast from smoke inhalation during a painfully slow, five-mile drive through congested traffic to an Arlington, Va., hospital. He returned to the Pentagon to help care for firefighters who were overcome by smoke.
Smith, a nurse and emergency medical technician, managed to stick an intravenous needled into the arm of a badly burned man, when others could not find a vein, in the center courtyard.
CARING CHAPLAIN: How do you tell two children that their mom won't come home that night? How do you tell a mother that her three children have died?
Welcome to New Jersey Army Guard Chaplain (Maj.) Joanne Martindale's world on that dreadful September Tuesday.
The Presbyterian minister, a single mother of two, did not personally experience the horrors at the World Trade Center on Lower Manhattan that morning. It was her mission, her calling, to break the news and then comfort people who were afflicted by the horrors.
Martindale's first stop, after being activated that morning, was an elementary school to tell a 9-year-old boy and 8-year-old girl, who knew nothing of the terrorist attack, as gently as possible that their mother was missing. It was even more gut-wrenching because their father had died in a car accident five months earlier.
The school's principal and the mother's best friend were also there to help ease the youngsters' pain: Who will feed us dinner? Who will read me a story at bedtime? Can we see her body?
The mother at her second destination saw Martindale approaching in her dress blue uniform and asked how many of her children had died. "All three," answered the chaplain as they sat on a porch swing. Her daughter and two sons. The woman cried for an hour, and Martindale helped the mother cook her children's favorite foods for the rest of the afternoon.
That was day one, Martindale later related to an Army reporter. The next 44 days were consumed, along with other chaplains, with counseling and consoling workers at Ground Zero and at the Fresh Kills Landfill on Staten Island where endless lines of trucks hauled the debris.
SECURING AIRPORTS: They patrolled train stations and the Alaska pipeline. They watched over nuclear power plants. They checked out vans and trucks, some smelling of fish, crossing bridges into New York and other cities.
Guard soldiers and airmen engaged in Operation Noble Eagle, however, were arguably the most visible at the nation's airports where the public, by and large, was happy to see them in their camouflage uniforms and bearing arms.
"The gratitude we've been receiving has been overwhelming," said New Mexico Air Guard Senior Master Sgt. Tim Hall about his experiences at the Albuquerque International Airport. People were baking cookies and buying coffee for the troops and saying God bless you because they felt better about flying with the Guard monitoring and reinforcing security checkpoints.
President George W. Bush set those historic wheels in motion with a Sept. 27 announcement. Governors were asked to send a total of 5,000 troops to 444 of this country's largest civilian airport for four to six months. Bush upped the ante by 25% on Nov. 9 to help travelers feel more secure during the holidays. The number actually hit nearly 9,000 troops, the National Guard Bureau reported.
"This is nothing unusual for this [150th Security Forces] squadron," observed Hall, who had been a policeman for 13 years. "Half of the people are police officers, and we have performed flight-line security and airbase ground defense missions in Saudi Arabia and in many other places."
"This has gone extremely well," remarked Guard Lt. Col. David Green, who coordinated New Mexico's force, as the airport mission wound down in May 2002. "It has certainly boosted the National Guard's image."
CIVIL SUPPORT: If it's true that big things come in the small packages, the Guard had the packages and everybody, it seemed, wanted at least one of them for a big job involving homeland defense.
It was the time that the Guard's newly-minted 22-member Weapons of Mass Destruction-Civil Support Teams came into their own. The supply could not match the demand.
Ten teams had been stood up, trained and tested since 1998 to detect biological, chemical and radiological agents used in WMD. The members in their plastic, hooded chemical suits and air tanks looked more alien than human. Their job entailed employing detection devices to check sites for deadly stuff that could endanger first responders and others who wanted to perform their humanitarian missions.
Anthrax that was being mailed to innocent victims soon after the attacks added to the urgency. Even as 17 additional teams were being certified for federal duty in six weeks rather than six months, the Defense Department was clamoring for five more teams. There would be 57 in all, at least one in every state, territory and the District of Columbia.
"Before September 11, a lot of people believed that something like this would never happen and that these teams would never be needed," said a 55th CST sergeant from Minnesota. "The terrorist attacks have solidified our purpose for being around."
They certainly got around. New York's 2nd CST, one of the original 10, first spent several days testing Ground Zero and assuring rescue workers amid the smoking, dusty rubble that the site was not contaminated. It joined the massive security force for the autumn's three World Series games at Yankee Stadium and the New York City Marathon. Two California teams were sent to Phoenix for the Series' four other games.
Teams from Colorado, Massachusetts and Texas were assigned to the Winter Olympics around Salt Lake City.
The Minnesota team was even ordered to test the state house, governor's mansion and mail centers before it was fully certified.
OLYMPIC GUARDIANS: The billion or so people who viewed from afar the spectacular opening ceremonies for the 2002 Winter Olympics in Salt Lake City may well have been able to tell four members of the Hinton family a thing or two about what happened — even though the Hintons were there. Sort of.
Those Utah Army Guard artillery soldiers were pulling security duty that first Friday night in February near Temple Square, home of the Mormon Church, across town from the stadium at the University of Utah. They were part of the ramped-up security force that helped safeguard the Games five months after the attacks.
Staff Sgt. Adrian Hinton and three enlisted sons Todd, Jason and Russell were among more than 5,000 Guard troops dispatched to the Utah venues from 25 states, including 1,700 from Utah itself.
The Utah Guard had initially been tasked to contribute to a 1,500-member joint military task force to enhance routine Olympic security. The Guard numbers alone were increased more than three times that after Sept. 11 spiked the urgency for homeland security.
"With the Olympics, more than 62% of our people are on duty," explained a Utah Guard spokesman. Including the Hintons, who were typical of many families in Guard service.
"Our family's military roots run very deep," said Adrian. "We all knew before Sept. 11 that we would be spending some time on security duty during the Olympics. After Sept. 11, everything changed here in Utah. This is an experience we'll never forget."
Those are happy memories because the Games were played without a serious incident thanks in part to the Guard, acknowledged Mitt Romney, the Olympics' president and chief executive officer who now represents Utah in the U.S. Senate. "The safety and success of these Games are in part due to the participation and tireless efforts of the National Guard," he praised. "You guys were great," Romney told all military personnel during the Feb. 24 closing ceremony.
OVER THERE: The first jetliner crashing into the World Trade Center was thought to be an accident. The second one was universally considered a deliberate attack.
War is what it ignited. The most unexpected, unusual and longest war America has ever known. The Guard had a piece of it and paid its share in blood.
The NATO Council declared that the terrorist attacks on the United States were an attack on all NATO nations, which satisfied Article 5 of the Cold-War-era NATO Charter, the first time it was invoked.
Congress passed the Authorization for Use of Military Force Against Terrorists on Sept. 14, and Bush signed it into law four days later.
The U.S. went to war in Afghanistan on Oct. 7 when American and British forces began bombing Taliban and al-Qaeda camps and then sent in Army Special Forces ground troops.
About 100 Green Berets of the 19th Special Forces Group were the Army Guard's first boots on the ground for Operation Enduring Freedom, it has been reported. Those members of B Company, 5th Battalion from Pueblo, Colorado., were activated for 12 months Dec. 5, 2001.
Sergeant 1st Class Daniel Romero, 30, was the first to be killed in action — April 15, 2002, during an ordnance disposal mission near Qandahar. The explosion from 107mm rockets killed three other U.S. soldiers and wounded another.
West Virginia Staff Sgt. Gene Vance Jr., 38, from the 19th Group's 2nd Battalion, was killed in intense fire May 19 while on patrol in eastern Afghanistan.
Illinois Staff Sgt. Jacob Frazier, 24, became the Air Guard's first casualty March 29, 2003, when four gunmen on motorcycles ambushed his convoy. Calling in air support for other troops on the ground as part of the 169th Air Support Operations Squadron put him in harm's way.
By last April 30, according to the Defense Casualty Analysis System, 226 Army and Air Guard members had been killed during the two decades of Operation Enduring Freedom.
In all, more than 800 Guard soldiers and airmen have lost their lives as a result of service in war on terror since Sept. 11, 2001.
Bob Haskell is a retired Maine Army National Guard master sergeant and a freelance journalist in Falmouth, Mass. He may be contacted at [email protected]