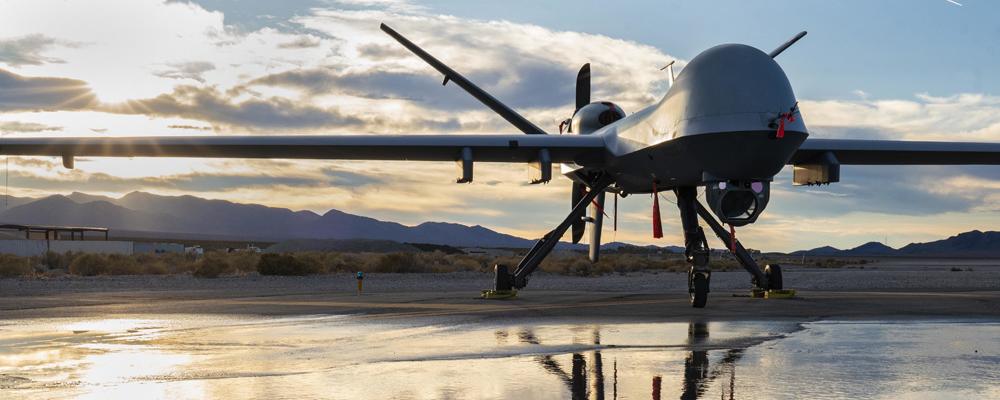 National Guard Magazine |
Don't Fear the Reaper
Technology ages fast in the 21st century, especially in the military, where the nation's adversaries are working around the clock to neutralize America's prowess on the battlefield.
The General Atomics-built MQ-9 Reaper may be the next example. The remotely piloted aircraft debuted in 2007 as an ideal weapon system for counterterrorism operations. It can fly for more than 24 hours without refueling, tracking and engaging targets with an array of sensors and precision-guided munitions operated from half a world away.
Demand for MQ-9 combat air patrols increased almost immediately from combatant commanders worldwide and has remained high. The Air National Guard alone now has 12 MQ-9 units, mostly conversions from A-10 and F-16 fighters. Some operated the smaller, less capable MQ-1 Predator before shifting to the Reaper.
But the Reaper may now be on the backside of a relatively short lifespan. It lacks stealth and supersonic speed, which defense officials believe is critical to surviving the contested airspace of a fight with the Chinese or Russians.
Consequently, Air Force leaders don't want to purchase anymore. They consider the MQ-9 a "legacy" aircraft and didn't include any in their budget request last year. Congress balked and added 16 to fiscal 2021 defense appropriations. There are also none in the president's fiscal 2022 proposal, which isn't sitting well with some lawmakers.
"We believe the MQ-9 will continue to play a key role for the Air National Guard for years to come," said Sen. John Hoeven, R-N.D., a member of the Senate Appropriations Defense Subcommittee, in a written statement to NATIONAL GUARD. "We are funding the procurement of additional aircraft and facilities for the MQ-9, and we are also looking at ways to upgrade the platform so it can conduct a wide range of future missions."
North Dakota is home to the Guard's 119th Wing, which operates the Reaper.
While Air Force leaders are no longer interested in purchasing new MQ-9s, they don't plan to retire it for another 10 or so years. In the interim, they, too, say they want to upgrade the aircraft to keep it "operationally relevant."
"The MQ-9 is still a very popular platform with the combatant commanders," Gen. Charles Q. Brown, the Air Force chief of staff, told reporters in February. "So it's not something we can just walk away from."
The Air Force's Reaper modernization plans include more power to handle, among other things, advanced artificial intelligence; greater communication capabilities with aircraft and troops on the ground; datalink; and anti-jam GPS.
You'll be astonished by what a few Guardsmen can achieve on a shoestring budget.

—Maj. Drew Larned of the New York Air National Guard's 174th Attack Wing
But the Guard isn't waiting on the Air Force. Using funds from the congressionally directed National Guard and Reserve Equipment Account, the Guard is developing its own set of MQ-9 upgrades, much like it has done over the years for other legacy aircraft.
The centerpiece is adding three new pods to the aircraft that enhance battlefield and airspace communications and target identification tracking and processing. They are intended to help the MQ-9 play a more prominent role in battlefield command and control, says Maj. Drew Larned, the chief of weapons and tactics for New York's 174th Attack Wing.
"Obviously, Congress owns the budget and the decision to procure more MQ-9," he says.
"But we know the equipment that we've taken to war for over a decade. We've got the experts in the Air National Guard that can squeeze the most value out of any budget allocated to us to modernize this tremendously capable platform. You'll be astonished by what a few Guardsmen can achieve on a shoestring budget."
The new pods create what the Guard calls the Ghost Reaper suite. Larned's unit demonstrated its capabilities during U.S. Indo-Pacific Command's premier exercise, Northern Edge, at Eielson Air Force Base, Alaska, earlier this year.
"The effort certainly turned a lot of heads in [INDOPACOM] and other theaters that are concerned with highly contested environments and great power competition," he says, noting the exercise furthered support for "MQ-9 branching out from its traditional role" into new mission sets.
Meanwhile, in California, the MQ-9 continues to demonstrate that it can also be an asset in domestic response. The 163rd Attack Wing now deploys it every year to help firefighters map fast-moving wildfires.
It has also been directly credited with saving lives. Last year, campers in Northern California were trapped in a wildfire and had no escape route. "Their only avenue of escape was into the lake," says Lt. Col. Joshua Assayag, the commander of the wing's 160th Attack Squadron.
A Reaper from the unit circled overhead. That's when the sensor operator noticed the crowd. "Our crews found the campers," he explains, "and guided the search-and-rescue helicopters."
"The MQ-9 is requested by CAL FIRE when there is a greater need than what civilian, federal, state, local government and private industry are able to fulfill," says Sagar Fowler, a battalion chief for Department of Forestry and Fire Protection. "The sensor on the MQ-9 allows for still and full motion video imagery of locations and conditions that would otherwise not be available for other aerial platforms."
Since 2013, the 163rd has supported local authorities during 53 fires, three search-and-rescue missions and one earthquake totaling 3,422 flight hours.
The Air Force does not plan on replacing the MQ-9 with a single platform. Instead, the service envisions a family of interconnected multirole systems.
The author is a Sylvania, Georgia-based freelance writer who specializes in military subjects. He can be reached via [email protected].
---
AT A GLANCE: MQ-9 Reaper
MISSION: Intelligence collection, reconnaissance and strike
INITIAL OPERATING CAPABILITY: 2007
MANUFACTURER: General Atomics Aeronautical Systems
POWER PLANT: One Honeywell TPE331-10GD turboprop engine
LENGTH: 36 feet
HEIGHT: 12 feet, 6 inches
WING SPAN: 66 feet
MAXIMUM TAKEOFF WEIGHT: 10,500 pounds
MAX SPEED: 276 mph
CEILING: 50,000 feet
ENDURANCE: 30 hours
CREW: Two (one rated pilot and one enlisted sensor operator)
ARMAMENT: Combination of AGM-114 Hellfire missiles, GBU-12 Paveway II and GBU-38 Joint Direct Attack Munitions, GBU-49 Enhanced Paveway II and GBU-54 Laser Joint Direct Attack Munitions
Source: Air Force