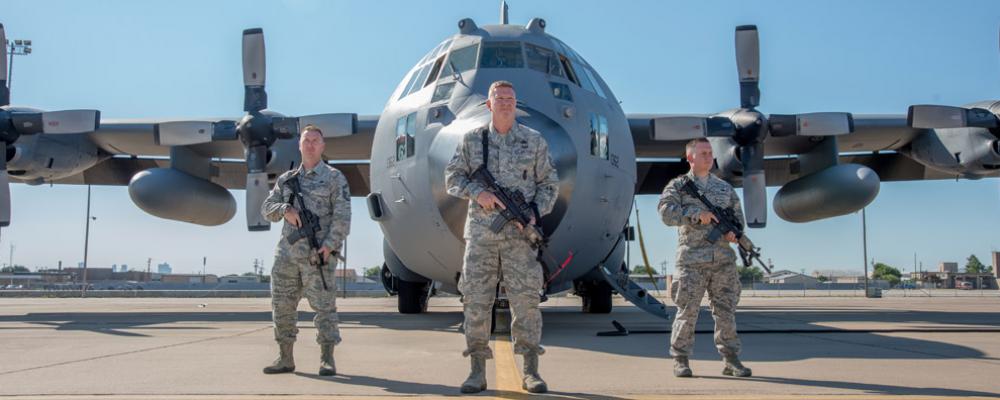 National Guard Magazine |
Defenders
Be careful when you talk to Col. Victor Moncrieffe II about the Air National Guard's security forces. And don't make the mistake of calling them security guards. To Moncrieffe, those are fighting words.
"We're  not security guards," the chief of the Air Guard's security forces will tell you in no uncertain terms. "We're a professional force. We're a trained force. We're a force that spends a lot of time on a range or in scenarios or in training, ensuring we are properly prepared for our tasks. We are Defenders."
And Moncrieffe, a regular Air Force officer, has affinity for every one of the 7,500 or so airmen (about 1,000 less than a decade ago) who watch over the Guard's 76 flying and intelligence wings, as well as its U.S. Space Force installations, and who help protect U.S. personnel, planes and property overseas.
Security forces have previously been called Air Police and Security Police during the Air Force's 74-year history. It is the military police service and ground combat force for the Air Force and its two reserve components. Although it was purportedly organized as the Air Force's "Marine Corps," the name Defenders gives that subculture its unique distinction.
They operate outside the wire during deployments, which have been routine over the last two decades, searching for mortars and improvised explosive devises and gathering information about potential enemy attacks. Those with special "Phoenix Raven" training provide security to aircraft and air crews in austere locations.
Defenders also serve beyond the wire at home. Many over the past year have been on the streets of America's cities, undertaking what many believe is the Guard's toughest domestic mission.
They have also endured their share of death in recent years. Three members of New York's 105th Base Defense Squadron from Stewart Air National Guard Base near Newburgh, New York, lost their lives near Bagram Airfield.
Staff Sgt. Todd "T.J." Lobraico Jr. was killed by small-arms fire Sept. 5, 2013. Tech. Sgt. Joseph Lemm and Staff Sgt. Louis Bonacasa were among six Air Force personnel killed Dec. 21, 2015, by a suicide bomber on a motorcycle.
"They're forever memorialized in history for us, especially in the security forces enterprise," Moncrieffe says.
It's about as much attention as Defenders desire or expect to receive even though they comprise the Air Guard's, and the service's, largest career field. That the Air Guard's force is 97% enlisted, 15% of whom are women, makes it a uniquely heavily enlisted career field, adds Chief Master Sgt. T.J. Hall, the security forces' manager at the National Guard Bureau in Washington, D.C.
The 343rd Training Squadron at Lackland Air Force Base in Texas trains 4,788 enlisted students during 65-day apprentice courses and 95 officers who undergo 70-day basic officer courses each year, says spokeswoman Annette Crawford. Fifteen percent of the enlisted students and 19% of the officers are in the Guard.
The blue blood of law enforcement courses through their veins.
Master Sgt. Shane Coakley, a day-shift flight chief, says he always wanted to be a cop and he always wanted to be in the military. "This," he says, "is the best of both worlds." Senior Airman Dylan Kretchmer is considering a career in law enforcement after college. Both belong to the Massachusetts' 104th Fighter Wing's squadron at Barnes Air National Guard Base in Westfield, Massachusetts.
Second Lt. Samantha Malenke, who enlisted in the active Air Force's security forces in 2007 and deployed for six months to Qatar, returned to the force in June 2020 as the traditional officer in charge of readiness and training for the squadron in Minnesota's 133rd Airlift Wing in Minneapolis. Even though she branched into the medical field and is now the civilian environmental manager for civil engineering, "I always knew I would work my way back to security forces," Malenke says. "That career field really fits my personality."
Furthermore, 40 to 50% of the Air Guard's force has civilian law enforcement seasoning — as town and municipal police, state troopers, deputy sheriffs and federal agents. That enhances its professionalism, security forces advocates point out.
Still, people who fly the airplanes and command the wings and bases typically get most of the attention and acclaim.
"We shy away from the limelight because it's not part of who we are," Moncrieffe explains. "We're the quiet ones. We're the silent type. This is a group of men and women who go above and beyond and understand they don't get weekends off. They don't get special events off. They have to be on post. They do so not to get attention but because it has to be done. And if somebody has to do it, they want to be the ones doing it."
It is not for the lighthearted or the weak-willed.

—Maj. Nathan Wallin, the operations officer of the Minnesota Air National Guard's 133rd Security Forces Squadron
THE NO-NONSENSE IMAGE THAT DEFENDERS PROJECT with their batons, M4 Carbine rifles and Beretta M9 pistols, and protective vests bearing multiple magazines and radios makes it clear they are not to be messed with.
"It is not for the lighthearted or the weak-willed. It is not by any measure an easy career field," explains Maj. Nathan Wallin who discovered that the hard way. He became the full-time officer in charge of Minnesota's 133rd Security Forces Squadron in April 2020 after 16 enlisted and commissioned years in public affairs. "The weight of the gear, the hours, the workload, it is going to challenge you and it is going to age you. But it attracts a certain type of individual — a very hard and dogged individual."
Wallin's 15-month baptism of fire with those individuals has included "one riot, two state active-duty activations and a pandemic." He has been in the thick of things since Minneapolis-St. Paul became the epicenter of the global wave of demonstrations and civil disturbances following the May 25, 2020, death of a Black man, George Floyd, at the hands of a white Minneapolis policeman.
"It hasn't been a firehose," he says. "It's been a firetruck full of firehoses."
Wallin and two other Guardsmen even spotted a drone from the roof of the Minnesota State Capitol during a demonstration in St. Paul. It was too close to the seat of government for comfort. The authorities were contacted, and the drone operator was collared. It turned out to be a lack of situational awareness, Wallin explains. The drone was recording footage for a hockey team's promotional video.
During the height of the protests in Minnesota last year,  the squadron provided the personal security detachment for then-Maj. Gen. Jon A. Jensen, who was the state's adjutant general, Wallin says. Jensen is an Army Guard officer who is now the Army Guard director.
"That was a great source of pride for an Air Guard unit," Wallin adds.

Much has been expected of the Defenders, and many other Guardsmen, over the past 18 months because of the coronavirus pandemic; demonstrations and extremist confrontations that sometimes became violent; a massive and prolonged security presence in Washington, D.C., to safeguard the 2021 presidential inauguration following the Jan. 6 riot at the U.S. Capitol; and last spring's trial of Derek Chauvin in Minneapolis for Floyd's murder.
Domestic operations rocketed to 10.9 million man-days in 2020, the National Guard Bureau reports, or about five times the number for 2019. This includes Guardsmen from 38 states logging 627,659 days to help law enforcement agencies with crowd control, monument and infrastructure security, traffic control, and roving patrol missions.
At its peak on June 7, 2020, less than two weeks after Floyd's death generated reactions nationwide, 43,351 Guard soldiers and airmen were providing civil disturbance support. Another 26,000 from all 54 states, territories and the District of Columbia deployed to the nation's capital to help secure America's 59th presidential inauguration.
"The hardest mission we do is responding in times of civil unrest," said Gen. Joseph L. Lengyel, the chief of the National Guard Bureau, as the 2020 events unfolded. "As a uniformed member of America's military, it breaks my heart to see the country I love in such pain."
Lengyel would undoubtedly appreciate the fact that Air Guard Defenders were on the front lines and helped prepare others to do the same.
"It was just unbelievable last year," recalls Senior Master Sgt. Michael Gardner, the 104th Fighter Wing's new security forces manager. The 104th Security Forces Squadron numbers about 30 full-time Active Guard and Reserve personnel and another 50 traditional drilling airmen who would normally be on duty during annual training or "a week here or a week there," he says. Along with some 20 state security officers, security forces personnel would staff the base's main gate, patrol the fenced-in perimeter, and guard the fleet of F-15 Eagle fighters during three shifts every day.
"But in the past year, between COVID and the civil disturbances, the average number of days that our traditional force was activated was in the 70s," Gardner adds. The situation was hardly normal but the base still had to be guarded around the clock.
Others in the fighter wing stepped up to be trained by those Defenders and dispatched with Army Guard soldiers to help set up and secure a temporary COVID hospital for 60 or 70 homeless people in nearby Springfield. Massachusetts; maintain order during demonstrations and disturbances in Boston and Greenfield; and serve for about six weeks in Washington. Gardner led a team of 40 down there for a month. All told, there were 14 activations, he says.
"We had a huge amount of support from the wing, actually more than I've seen in my nearly 19 years here," Gardner acknowledges.
We shy away from the limelight because it's not part of who we are.

—Col. Victor Moncrieffe II, the chief of the Air National Guard's security forces
THE 104TH'S SQUADRON gained the distinction as the Air Guard's Security Forces Squadron of the Year for 2020.
"The competition among our units being considered was very tight," Moncrieffe says. "In the end, the professionalism, motivation and mission accomplishment of the 104th SFS set them apart from their compatriots."
But not by much. "We are proud of all of our SF squadrons. While there can only be one SFS of the year, Chief Hall and I greatly appreciate the accomplishments of all of our units."
Col. Sherri Hrovatin, commander of the 104th's Mission Support Group that includes the security forces squadron, could have been speaking for many others when she observed, "One of the things that I really appreciate about security forces is their ability to get the rest of the unit ready for a mission. We talk about civil disturbances and we talk about the riot gear that we train them in. We talk about getting them out the door, ready to go, qualified to be armed. And those weren't all security forces people who were headed out the door. But security forces trained up our whole unit."
All of this activity produced some positive results, say Gardner and other supervisors.
For one, it established or reinforced ties with other Air and Army Guard units and civilian police agencies. The 104th, for example, worked in tandem with the Cape Cod-based 102nd Intelligence Wing's security forces squadron. They were integrated with Massachusetts State Police and Boston Police officers, Gardner says.
"We do well passing information back and forth," says 104th Senior Master Sgt. Thomas Moriarty, who is also a veteran Massachusetts state trooper. "We had teams leaving this base for a Black Lives Matter protest last March. I was able to give them a real-time situational report because I was working it as a trooper."
Security forces and other airmen from Minnesota's 133rd Airlift Wing and the Duluth, Minnesota-based 148th Fighter Wing served together during inauguration duty in Washington, D.C., and for the state's Operation Safety Net during the Chauvin trial, says 148th spokeswoman Audra Flanagan.
That wing also had a busy year, and, business as usual, deployed eight of the 148th's Defenders to Kuwait from January to July 2020. That deployment was extended for 30 days because of pandemic travel restrictions, she says.
The missions also familiarized many Guard personnel not accustomed to such duty with weapons and crowd-control tactics and protective equipment including shields, batons and helmets with faceguards.
And, for the 104th at least, it significantly enhanced retention, which had previously been a challenge.
"Oddly enough, the year before that, when we were relatively normal, we had an almost mass exodus," Gardner says. "Right now we're doing really well with retention. I would say we have more senior NCOs and NCOs among our drill status Guard members than I've seen in the last five to 10 years."
The reason is obvious to Hrovatin. "I think right now busy people are happy people," she says. "All of the real-world missions that we've had over the past, say, two years have really given people value. They get to do what they joined the Guard to do."
One pandemic problem, supervisors claim, was convincing airmen who were exhibiting COVID symptoms to stay home, take care of themselves and avoid infecting others. Some security forces members did get sick. It was a matter of pride for others who may have been marginal. They had jobs to do. They did not want to feel like they were letting down the team.
"This is a proud career field," insists the 133rd's Malenke. "We take what we do very seriously. There is no 'Minnesota nice' in security forces. When it comes down to it, age, race, gender, none of that matters. We're all Defenders."
Bob Haskell is a retired Maine Army National Guard master sergeant and a freelance journalist in Falmouth, Mass. He can be contacted via [email protected].
 
---
G.I. JEN
Guard trailblazer got her start as a security forces specialist
CAPT. JENNIFER WEITEKAMP is arguably the Air National Guard security force's most iconic figure — especially among the 15% percent who are women — even though she has left that career field.
Weitekamp was Senior Airman Jennifer Donaldson, and a security forces specialist, in April 2001 when she endured 14 grueling days at the National Guard Sniper School at Camp Robinson, Arkansas, to complete a counter-sniper course with seven Guard airmen. It was the first program of its kind for any Air Force component.
That gave Donaldson the distinction of becoming the first woman in the U.S. military to complete the only U.S. sniper school open to females. She was eligible because the school was open to everyone in security forces, including women. Snipers are part of the infantry in the Army and Marine Corps, and women at that time were barred from the infantry and most other combat arms.
Twenty years later, she is married, has three children, holds bachelor's and master's degrees in psychology and education, and is a full-time personnel officer at Illinois' Joint Force Headquarters at Camp Lincoln in Springfield, Illinois.
She is still, however, regarded as a trailblazer for women because of her sniper training. G.I. Jen remains her nickname. She was among those highlighted in a Women in the Air Force exhibit that opened in March, Women's History Month, at the National Museum of the Air Force at Wright-Patterson Air Force Base in Ohio.
"Security Forces training pushed me in ways I had never been pushed. I learned a lot about discipline from that," Weitekamp recalls.
Sniper training was a turning point in her life. She came close to quitting, she says, because she began to believe leaders and mentors who expected her to fail. "I had no idea it would be so hard," she recalls.
However, one of the instructors, a former Marine sniper, convinced her that she did have the right stuff to stay the course. "I decided I would never give up on myself again," Weitekamp says. "That was the big thing that has enhanced my career in the Air National Guard."
—By Bob Haskell
---
AT A GLANCE: SECURITY FORCES
The mission predates the inception of the Air Force. Security forces are the military police, base security and air base ground defense forces that watch over the Air Force and now the Space Force.
They were formed on the premise of the Air Force's Marine Corps to provide security for the service similar to how the Marines provide security for the Navy. They later became known as the Air Police and later the Security Police.
Only a small portion of the Security Police specialized in security until after the 1996 Kobar Towers bombing incident in Saudi Arabia that left 19 Air Force personnel dead. In 1997, the Security Police became the Security Forces and more of a combat force.
On March 19, 2003, the United States invaded Iraq, and on the same day members of the Arizona Air National Guard's 161st Security Forces Squadron arrived in country, securing the newly captured Tallil Air Base.
Today, approximately 7,500 members of the Air Guard are part of security forces units in 76 flying and intelligence wings. It is the Air Guard's largest career field.