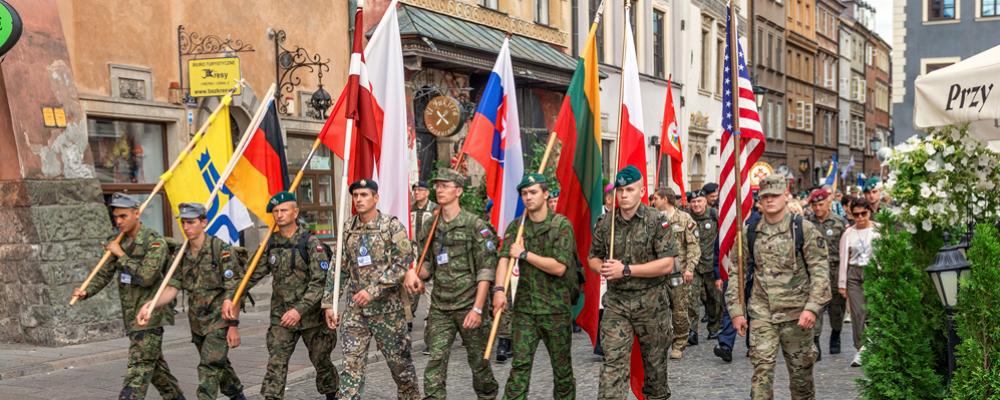 National Guard Magazine |
Deep Ties
Within 30 minutes of the Russian invasion of Ukraine on Feb. 24, senior Ukrainian leaders reached out to some of their most trusted allies in the world — the California National Guard.
Guard leaders in the Golden State immediately went to work, treating the situation with no less urgency than if Russian tanks were bearing down on Sacramento, the California capital. The relationship is that personal.
They immediately stood up their joint operations center to "[direct] requirements and requests from the Ukrainians to other parts of the U.S. government to break down bureaucracy and get help to the Ukrainians as soon as possible," says Maj. Gen. David Baldwin, the adjutant general of California.
The first calls were for more Stingers, a portable anti-aircraft system, and Javelins, a shoulder-borne anti-tank weapon, he says.
"About the third morning, after a bunch of us had been up for almost 72 hours straight, we activated our joint force headquarters to full battle rhythm," he says. "We have a task force commander and the staff is working across the entire enterprise to help resource the requests coming from the Ukrainians."
The effort contributed to Ukraine's ability to blunt the initial Russian advance. So did 29 years of training, mentoring and getting to know the Ukrainian military like family through the Guard State Partnership Program.
Baldwin estimates he's been to Ukraine 30 times in the last 10 years. He also ascended the California Guard and got to know his Ukrainian counterparts as they rose through their ranks.
"They trust us," he says, "because they know us."
The value of that cannot be overstated, according to retired Lt. Gen. Ben Hodges, the commander of U.S. Army Europe from 2014 to 2017 and now the Pershing Chair in Strategic Studies at the Center for European Policy Analysis, based in Washington, D.C.
"You can't surge trust," he says.
But California isn't the only state getting phone calls from Eastern Europe. Twenty-two former Soviet republics or Eastern Bloc nations are in SPP. Many of them also have a high degree of trust in their Guard partners and are worried they may also be in Russian President Vladimir Putin's crosshairs.
One is Poland, which is partnered with Illinois. "I think they're looking at it and are very concerned," says Maj. Gen. Richard Neely, the adjutant general of Illinois. "We understand that they've always had a concern about Russia."
The 29-year Illinois-Poland relationship is among SPP's strongest. Neely first reached out to Lt. Gen. Wieslaw Kukula, the commander of Poland's Territorial Defense Forces, says a TDF spokesman. "The two commanders discussed matters during a video conference."
Poland has boosted its military funding from 2.2% to 3% of its gross domestic product, Neely learned from a TDF briefing. "That's a significant increase," he says. "They want to make sure they're not the next Ukraine and that they're prepared."
The Poles also recently finalized a deal with the U.S. to buy 250 of the most advanced M1 Abrams tanks.
In addition, Neely spoke with Marek Magierowski, Poland's ambassador to the U.S., face to face in Chicago in March. "He wanted to share his concerns about refugees and what the U.S. might do," he explains. More than 2.5 million refugees from Ukraine have crossed their shared border with Poland.
Slovenia, Colorado's partner, is also concerned, says Brig. Gen. Scott Sherman, the director of the state's Joint Staff. "Being a former Eastern Bloc nation, a part of Yugoslavia, they're very nervous, very scared, very concerned."
The country is another that plans to up its defense to almost a billion U.S. dollars to meet its 2% of GDP commitment to NATO in 2023. Slovenia has asked the Colorado Guard and U.S. European Command to visit in June to talk about purchasing U.S. military equipment, including 155mm howitzers.
"Our relationship is stronger than ever, and the situation in Ukraine has only strengthened that relationship," Sherman says. "This is a huge wakeup call for all of the European partners."
In Maryland, Guard leaders recently met with generals from its two partners in Eastern Europe — Bosnia-Herzegovina, which was also once part of Yugoslavia, and Estonia, a former Soviet republic on the Baltic Sea sharing a 183-mile long border with Russia.
"We are not partners," Lt. Gen. Senad Mašović, the chief of defense for the armed forces of Bosnia-Herzegovina told Capital News Service. "We are brothers."
"Nowadays, it's actually important to increase capacity of the partners abroad to prevent any negative influence of our opponents," he added. "I'm talking about negative influence of Russia and China, in Bosnia-Herzegovina, in our region, in Europe, and against democracy."
That officials in Eastern Europe are coming to state Guard officials on matters that historically have been the domains of the Pentagon and the State Department illustrates how critical SPP has become to U.S. relations in that region, say many Guard leaders.
It's why EUCOM officials have been doing a video teleconference weekly with adjutants general with European partners and NGB leaders since the Russians invaded Ukraine.
They trust us, because they know us.

—Maj. Gen. David Baldwin, the adjutant general of California (SPP Partner: Ukraine)
EASTERN EUROPE is the cradle of SPP. It began in the wake of the dissolution of the Soviet Union in 1991 to assist willing former Soviet republics and Eastern Bloc countries reforming their militaries along Western lines. Most of them were eager to embrace the West.
The program had many objectives, including assisting the nations become more interoperable with NATO forces and helping them become more transparent in military affairs. Perhaps most importantly, the partnerships would show the nations how a military works in a democracy.
U.S. defense officials believed pairing the newly independent countries with the Guard made more sense than with active -component forces.
First, the militaries in these countries had missions more closely aligned with the Guard. They could be called to respond to natural disasters and humanitarian crises. They also often worked closely with law enforcement, like Guardsmen under a governor's control.
Guard leaders are also not reassigned every three years to a different location. Many serve in one state for an entire career. This would enable continuity, with state and partner military personnel able to bond personally over time.
Finally, multiple low-level exercises involving Guard troops in different countries were believed to less threatening to NATO adversaries than large maneuvers involving tens of thousands of troops, such as Return of Forces to Germany during the Cold War, better known as REFORGER, which was last conducted in 1993.
SPP began that year with Bulgaria (Tennessee), the Czech Republic (Nebraska/Texas), Estonia (Maryland), Hungary (Ohio), Latvia (Michigan), Lithuania (Pennsylvania), North Macedonia (North Carolina), Poland (Illinois), Romania (Alabama), Slovakia (Indiana), Slovenia (Colorado) and Ukraine (California).
NGB administered the program, often selecting partner states based on whether they had large immigrant populations from a particular country. For example, Illinois has a big Polish population. And Michigan is home to the nation's largest number of Latvian-Americans.
Engagements began soon after on both sides of the Atlantic. Most were small unit exercises, subject matter expert exchanges or leadership summits. Often, they culminated formal sessions with informal time, sharing laughs and stories while tipping a few glasses, participants say.
As the relationships grew, Guard leaders were often introduced to civilian leaders all the way up to head of state. Many become a familiar and trusted face in their partner nation's capital, sometimes more so than officials from Washington.
Several of the partnerships go beyond the military, spilling into academia and commercial trade as governors and economic and higher education advisors visited partner nations.
Ties were furthered strengthened when partner militaries began deploying to contingency operations. Troops from 15 SPP countries, most of them from Europe, fought alongside their Guard partners in Afghanistan and Iraq. Some wouldn't deploy with any other units.
Of the original 13 partnerships, all but Ukraine, with the help of their Guard partners, gradually joined NATO, which provides a collective defense of member nations. This is spelled out in Article 5 of the alliance's charter. It also makes Russia's choice for provocation no coincidence.
Nevertheless, California and other states worked hard to move Ukraine's military beyond its old Soviet thinking and tactics, especially after Russia's illegal annexation of the Crimean Peninsula in 2014.
Baldwin says he is hardly surprised by Ukraine's ability to hold back what is supposed to be one of the strongest forces in the world.
"We knew better than anybody how good the Ukrainians were, but even we didn't know they were this good," he says. "It just is a testament to their hard work and their dedication as well as the work of all the soldiers and airmen of the Cal Guard who spent these past decades in helping to transform the organizational culture of the Ukrainian armed forces to allow them to adopt Western methods of fighting that are just proving so effective on the battlefield."
Californian Guardsmen savored the pride of Ukrainian victories and suffered the pain caused by fallen comrades.
"Our fighter wing has a very, very close relationship with their fighter pilots. Our pilots are mourning the loss of many of their friends," Baldwin says of the 144th Fighter Wing in Fresno, which flies the F-15 Eagle. "But they're not losses that were in vain. These were brave heroes who really took the fight to the Russians, surprised the Russians and the rest of the world with how good they were. We're very proud of them for that."
This is a huge wakeup call for all of the European partners.

—Brig. Gen. Scott Sherman, the director of the Colorado National Guard's Joint Staff (SPP Partner: Slovenia)
WHILE SPP STARTED IN EUROPE, it expanded to U.S. Southern Command and then to the rest of the combatant commands. In U.S. Africa Command, some of the state partnerships predate the establishment of the command itself.
Today, there are 93 nations partnered with Guard organizations from all 50 states, Guam, Puerto Rico, the U.S. Virgin Islands and the District of Columbia.
The crisis in Eastern Europe has spotlighted the program. Now, some in Congress want the Guard to do more.
Several lawmakers, led by Rep. Adam Schiff, D-Calif., urged Defense Secretary Lloyd J. Austin III and Secretary of State Antony Blinken in a March letter to grant "needed authorities" to the California Guard to expand its support for humanitarian response in Ukraine. Schiff is the chairman of the House Permanent Select Committee on Intelligence.
"While we have the utmost confidence that the California National Guard is more than capable, willing, and able to do more, without the federal government taking key steps to activate the required authorities, they will be unable to expand their efforts," the letter said.
While California and the rest of the Guard has personnel and equipment to provide humanitarian assistance, DoD does not have the lead, says Col. Mathew Wenthe, who oversees SPP activities at NGB. That distinction belongs to the U.S. Agency for International Development.
He says the Pentagon is working out what its and the Guard's role can be when the humanitarian effort is being led by USAID.
"What I appreciate about that letter is that Congressman Schiff and the other people are helping to raise awareness about the value of this program," Baldwin says. "People around the world see the value of the partnership and they see what we deliver."
So do people in the Pentagon, he adds. "Word is out throughout the Department of Defense that SPP, for pennies on the dollar, delivers tremendous value to combatant commanders and to the entire national security enterprise," Baldwin says.
SPP advocates say the program costs about $40 million annually, which is actually less than pennies on the dollar when defense appropriations for fiscal 2022 are close to $750 billion. In the parlance of Congress, program expenditures are "budget dust."
EUCOM commanders have been touting the program for years. "The State Partnership Program is, dollar for dollar, my best EUCOM investment," Adm. James Stavridis told Congress during his time in charge of the command from 2009 to 2013.
Neely thinks this is the time to provide SPP with more resources.
"We never envisioned SPP doing what it is doing today," he says. "I think this might be the next step in the evolution of the program — to make sure that we have the funding and bilateral affairs officers, all of those things that the chief of the National Guard Bureau is working hard to make sure are there."
At a minimum, SPP will grow in numbers. DoD has approved adding Oman and the Republic of Cyprus to the program this year, NGB has announced, and 28 more nations worldwide are under consideration over the next 10 years.
Seven of them – Denmark, Finland, Greece, Iceland, Norway, Sweden and Switzerland – are within EUCOMS's area of responsibility. Denmark, Greece, Iceland and Norway are NATO allies.
Israel, Kuwait, Algeria, Zambia and Samoa are also on NGB's "Next 30" list.
"As this program comes of age," Wenthe states, "what we need to start getting people to realize is that we're going to do this."
Bob Haskell is a retired Maine Army National Guard master sergeant and a freelance journalist in Falmouth, Mass. He can be contacted via [email protected].
We never envisioned SPP doing what it is doing today.

—Maj. Gen. Richard Neely, the adjutant general of Illinois (SPP Partner: Poland)
---
Lessons Learned Well
Multiple states had a hand in helping prepare the Ukrainian army for this fight at a small training post in western Ukraine
A WASHINGTON ARMY National Guard officer with a doctorate in military history, focusing on the early American army, learned a lot about Ukraine's 21st-century army last year.
It was clear to Col. James Perrin Jr. that soldiers in Armed Forces Ukraine had much to learn about Western-style warfare. But it was also clear the Ukrainians are exceptional fighters who are anxious to learn tough lessons.
Perrin led some 165 citizen-soldiers of Task Force Raven from Washington's 81st Stryker Brigade Combat Team, which he also commands, in Ukraine from April to December 2021.
Raven was the command element that oversaw the training, advising and mentoring for an estimated 10,000 Ukrainian troops at the Yavoriv Combat Training Center amid wooded rolling hills close to their nation's western border.
"We loved working with them," Perrin says. "They have incredible spirit, incredible abilities, just physically aggressive." During a night live-fire exercise, he recalls, "I felt like their soldiers ran two miles almost nonstop and didn't even break a sweat. I am not at all surprised by the Ukrainians' willingness to fight."
Many were seasoned from combating Russian-backed separatists in the eastern Donbas region, where war has been waged since 2014. Ukrainian troops alternated six months in the combat theater with six months of consolidating, reorganizing and training, Perrin explains.
Raven was the last of 10 U.S. task forces to command a full nine-month rotation in the Joint Multinational Training Group-Ukraine, part of the 7th Army Training Command. The mission ended abruptly when the Pentagon pulled the Florida Army Guard's Task Force Gator out Feb 12.
The Army's 173rd Airborne Brigade, which is based in Europe, kicked off the operation in 2015. Guard brigade combat teams and an armored cavalry regiment deployed task forces from between 150 to 200 soldiers from (in order) California, Oklahoma, New York, Tennessee, Wisconsin and Illinois before Washington took over.
Allied troops from Canada, Denmark, Lithuania, Poland, Sweden and the United Kingdom sent training personnel as well, reported the 7th ATC.
During seven years, they worked with roughly 27,000 Ukrainians; members of an army in the midst of transforming from Soviet to Western ways of warfighting, says Perrin. U.S. mentorship progressed over the years from individual to collective unit training at the battalion and brigade levels.
They got a lot of mileage from a 19-square-mile maneuver corridor that was tiny compared to the Army's vast National Training Center in California and Joint Readiness Training Center in Louisiana.
But they made the place work. Weapons handling, ammunition accountability, counter-drone surveillance, minefield clearing, mortar and sniper training, battlefield medical treatment and radio jamming were reportedly among the train-the-trainer lessons imparted to Ukrainian cadre.
"We did provide a fair amount of antitank Javelin training. If anything, that was the new development within the last couple of years," Perrin says. "The Javelins seem to be working for them this time."
So, apparently, is the overall regimen. "The training helped prepare Ukrainian forces for Russia's full-scale invasion this year," states a "Lessons Learned" assessment by the Army's Asymmetric Warfare Group.
"They started looking at things that would be required to become interoperable with NATO," Perrin observes. "So, in that sense, they adopted U.S. doctrine."
The training apparently worked both ways. "I have gained valuable insight into the tactics and methodologies of how [Ukrainians] conduct operations," said Capt. Adam Deal, an advisor with the Wisconsin Guard's Task Force Juvigny, in May 2020. "Although we may differ in how we would approach a certain tactical problem, I feel confident that we would be able to work together in a joint effort."
Other first-hand accounts of this slice of Guard history may be beneficial in another way. Dr. Jim Perrin Jr. is uniquely qualified to tell the story as the Washington National Guard's command historian.
— By Bob Haskell
---
Polish Citizen-Soldiers Follow US Guard Lead
CHICAGO, IT HAS OFTEN BEEN SAID, is the second-largest Polish city in the world, reflecting the Old World heritage of many people in Illinois. Conversely, members of the Polish military, the reserve Territorial Defense Force, have strong New World ties with the Illinois National Guard.
The 29-year Illinois-Poland affiliation with the Guard's State Partnership Program is timely indeed. The Poles are feeling the heat of Russia's invasion of Ukraine on their eastern flank, and the five-year-old TDF of some 32,000 citizen-soldiers is expected to stand up and be counted.
"The war is on the Polish border," insists Brig. Gen. Maciej Klisz, the TDF's deputy commander. "TDF soldiers must be ready to present a trustworthy deterrence and defense posture toward the opponent and secure and protect their society," he says.
Klisz has praised Illinois for enhancing the TDF's readiness to support the Polish armed force's overall potential. After the Russian invasion on Feb. 24, the TDF requested Javelin and antitank tactics, combat medicine and sniper training.
"The Illinois National Guard momentarily, positively answered the request, and the first programs will be launched in April and May," he says.
Furthermore, the TDF's officer candidate and noncommissioned officer training has been influenced by the Guard's schools, as has its dual mission of supporting civil authorities during disasters and other emergencies, points out 2nd Lt. Marek Zaluski, a TDF spokesman.
Since the partnership program enables member countries to tap into other states, TDF light infantry troops participated in four U.S. events with the West Virginia Army Guard in 2019. Three were unconventional warfare Ridge Runner exercises with Green Berets in the 19th Special Forces Group.
"Ideas and concepts borrowed from the National Guard model are behind the success of the TDF today," Zaluski says. "It is that foundation prior to the conflict in Ukraine that makes TDF better prepared to handle the current situation."
— By Bob Haskell