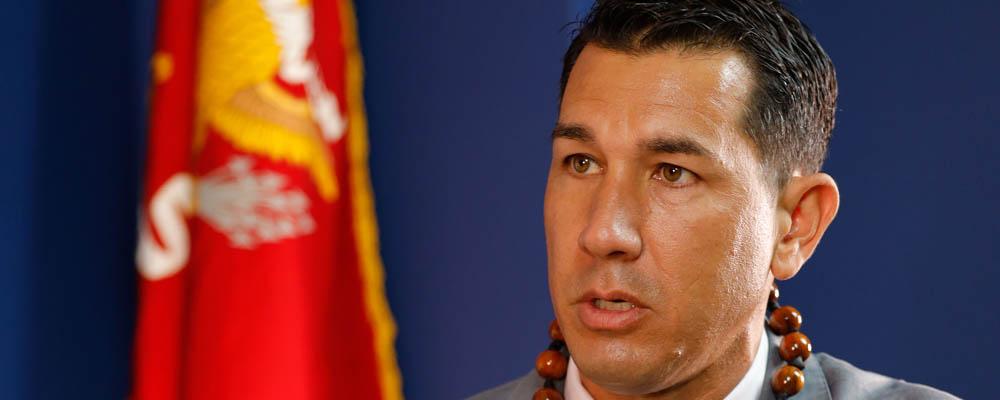 National Guard Magazine |
A Conversation with Rep. Kai Kahele
Love of flying brought Lt. Col. Kaiali'i Kahele to the Hawaii Air National Guard. A desire to continue the work of his late father, Gil Kahele, brought him to public office. Now, Kahele is one of only six currently drilling Guardsmen who serve in Congress.
A former Hawaii state senator who also flies as a civilian pilot for Hawaiian Airlines, the freshman congressman believes he would not be a member of Congress were it not for his Guard service.
He brings a unique perspective to Capitol Hill, having participated in COVID-19 missions in his home state, flown combat missions overseas and taken part in numerous humanitarian relief missions.
Kahele visited the National Guard Memorial, the NGAUS headquarters in Washington, D.C., earlier this summer. After touring the National Guard Memorial Museum, he sat down with NATIONAL GUARD to talk about juggling his Guard and congressional duties and what he hopes to accomplish in his first term in Congress.
You are part of a small group that both serves in the Guard and on Capitol Hill. Let's start with what inspired you to serve your country, first in the National Guard and now as a member of Congress?
My journey started with wanting to pursue a career in aviation. I wanted to fly, and my family has a history of military service. My dad was a United States Marine. His brothers were in the Marines and the Army and the Air Force. On my mom's side, there was service there in the Army Air Corps. And so for me, following in their footsteps was something that I think was almost predetermined.
In mid-1990s, I was playing volleyball at the University of Hawaii and I had met two guys who had come to a volleyball game and knew my interest in aviation from a little blurb in the media guide. They came up to me after the game and said, "Hey, we see you want to fly and here's our card, give us a call." And I did give him a call.
We sat down. It was an F-15 pilot and a C-130 pilot in the Hawaii Air Guard, and they said, "If you want to fly, there's no better organization to be a part of than the Hawaii Air National Guard." Not one to reinvent the wheel, they told me exactly what I needed to do, and I applied to the Hawaii National Guard to be a pilot.
I was selected in 1998 to fly the F-15 Eagle for the Hawaii Air Guard. We're fortunate that we have three aircraft as part of the 154th Flying Wing. So, someone applying to Hawaii National Guard to fly, you have potentially the choice of three airframes, a fighter, a heavy or a tanker. And so that started my journey in the National Guard.
I left for training in early 2001, went to McGhee-Tyson Air National Guard Base in Knoxville, Tennessee, for six weeks of the Academy of Military Science to be commissioned as a second lieutenant. It was cold was one of the things I remember. Knoxville in January was freezing cold for a Hawaii boy. But I commissioned in mid-February and reported to Columbus Air Force Base, Mississippi for Air Force pilot training and on 9/11, 2001, I was flying T-38s in the 150th Flying Training Squadron at Columbus.
Looking back today on what is now 20 years of commissioned service as an officer in the Air National Guard, for all but seven months of my entire military career, we've been a nation at war. Which makes the drawdown of Afghanistan in 2021 even more important for someone like me, who was in shock and horror along with the rest of my Air Force, active-duty, Reserve and Guard students who were all aspiring Air Force pilots to see our nation attacked on 9/11.
I would find myself on my first deployment to Afghanistan in late summer of 2005 and that would be the first of many, many deployments in support of Operation Enduring Freedom and Iraqi Freedom. It's been an amazing journey and an opportunity. So many experiences that people in Hawaii, friends of mine that I grew up with, would never have had a chance to experience or to see through their own eyes. And those experiences make me the person I am today.
I wouldn't be a member of Congress if I didn't have the National Guard in my life. It's given me so much and I continue to serve. And as someone who is at his 20-year point, where I've given 20 years to the National Guard and to my country and have an opportunity to transition into another journey in my life, I've decided to stay in the Guard and continue serving.
Speaking of service, you're also an elected official. What inspired you to serve first in your home state and now here on Capitol Hill?
I never thought I'd be a member of Congress. Never thought I'd be sitting here with you today having this interview. Life happens, sometimes for the reasons you least expect it to.
My dad, who like I'd mentioned before, was a former U.S. Marine and had served as a civil-service federal employee for the United States Army at Pohakuloa, which is a military training area on Hawaii Island, the island I live on in Hilo, had served in the state senate, represented our hometown of Hilo for about five years.
And in early 2016, my dad had a heart attack at 73 years old on Martin Luther King Day and passed away a week later. Two days prior to that, when things weren't looking very good, I had that conversation with my dad that life never prepares you to have as a son or a daughter with your parent.
And in that conversation, my dad asked me point blank. He said, "If it's my time, then I'd like you to consider replacing me in the state senate." And, if you were in my shoes and that's one of the last things your mom or dad would ever ask of you, there's no hesitation.
Two days later he passed away. And two weeks later, I'm my hometown state senator appointed by the governor of Hawaii. I was 41 years old. My wife was pregnant with my third daughter. I was a major, a C-17 Globemaster III instructor pilot teaching young Air Force pilots how to fly the C-17 and living my dream job as a commercial airline pilot for Hawaiian Airlines.
The last thing I ever thought I was going to do at 41 years of age was enter Hawaiian politics and be an elected official in my hometown. Five years later, we're in Congress. Here we are.
You never know when life is going to come at you when you least expect it, when it's going to take you on a journey you never plan for. And often, it will happen to you when you're in one of the most challenging, weakest times in your life. And that's when you harness all the experience that you have in life to get you through those tough times.
If it wasn't for my dad, I wouldn't be here today. But I think he knew that his son who was a native Hawaiian who could walk in both worlds as a military officer and as a native Hawaiian, as a working dad, was someone who could bring these experiences to elected office, was something that the next generation of leaders in Hawaii and this nation desperately needed. And I think that's one of the reasons why he thought, in his wisdom, that his son was ready.
Now you're just one of the handful of currently serving Guardsman in Congress. How do you juggle those responsibilities?
It's not easy. But COVID, in a way, for Guardsmen across the country, opened up a new opportunity to participate in drill and be a productive member of your Guard unit without actually being physically there for a weekend.
We were forced into a remote drill since March of last year, and up until just recently, at least in the Hawaii Air National Guard, in the unit I'm in, we drilled remotely and we did the best we could.
Fortunately, PT tests were put on the side for a year, for those of us that got to go through that every year. It has been challenging, but it's also presented opportunities where you can continue to serve remotely.
Nothing replaces in-person drills. Nothing replaces that comradery of seeing your fellow Guardsmen every month, doing PT together, doing training together, interacting with your commanders. But at the same time, you've got to find a balance.
For me, I try to the max extent possible to go back home to drill when I can. And when I can, I try and make it up there. There is a group here of other Guardsman, not just members of Congress, but staff and others that do get together regularly and that allows you to perform your drills remotely.
But at the same time, the Hawaii National Guard is my Ohana, my family, and they're very supportive of the role I'm in. My commanders are very supportive and we work together to try and make it happen.
Your first several months in Congress coincided with a massive Guard presence on Capitol Hill, as thousands of soldiers and airmen representing all 54 states, territories and the District of Columbia took part in a security mission following the deadly Jan. 6 attack on the U.S. Capitol. That mission and COVID-19 relief missions really highlight the Guard for some members of Congress. What do you see as your role when it comes to educating your colleagues in the House on the Guard? And what did you see in terms of interaction with Guardsman that were serving there on the Hill?
I think about the Guardsmen that were called to serve March of last year when 50,000 Guardsmen were activated via presidential emergency declaration because of COVID. And those Guardsman that answered the call when states were unable to, or at the time didn't know how to mitigate the effects of COVID and as someone who also volunteered to serve during COVID for four months in helping the state of Hawaii get through the early initial phases of COVID.
I think about those Guardsmen that stood up, and their families that sacrificed during a global devastating deadly pandemic to put their lives on the line to stand in line at security checkpoints at airports, to do COVID testing, right on the front lines to get us through COVID.
And as someone who was here on January 6th, just to witness a deadly assault on our Constitution and on our democracy and on our halls of freedom and to see Guardsman answer the call in the days following the insurrection, leading up to the inauguration so that we could have a safe transfer of power to the next president of the United States, and then remain here for the next few months to get the country through that, that was something that I took personally.
I went out at two o'clock in the morning to greet Hawaiian National Guardsman arriving on KC-135s and C-17s at Andrews Air Force Base [in Maryland], standing there shoulder to shoulder with [Air Guard Director Lt. Gen. Michael] Loh and [Chief of the National Guard Bureau Gen. Daniel] Hokanson to shake their hand and thank them for their service and thank their families who left them on the ramp at Hickam Air Force Base to fly here.
[During the COVID mission] I was one of those Guardsmen on orders when our orders were going to be cut when we were reaching the 89-day point, because when you went past 89 days, a whole bunch of benefits were unlocked, like the Post-9/11 GI Bill.
To have Guardsman not know if they were going to be on Title 32 status or on state active duty to have our health care benefits potentially taken away from us, it's been challenging for the last year, I'm not going to lie.
As a Guardsman who was in that situation and could hear some of the concerns of other Guardsmen and their families on active duty during that time, I felt for them. Which makes my representation here on the Hill as a voice for them on the House Armed Services Committee and as a member of Congress, even more important.
You mention the House Armed Services Committee. You have some firsthand experience of some of the challenges that the Guard faced in the past year-plus. Do you have any particular goals, any particular issues that you're hoping to address now that you have that power as an elected official?
In my career, I've seen the Guard transform, even the Hawaii Air National Guard from a quiet, off-the-radar C-130 squadron out in the Pacific and an F-15 squadron to an almost full-time composite associate model where we serve alongside active-duty counterparts each and every day, active duty pilots flying with Guard pilots deploying overseas.
So one of the things I think that is really important is health care for Guardsman. It's complicated, but at the end of the day, to not have a Guardsman have health care for at least themselves and quite possibly their families while they're serving, if they're serving on less than 30 days of active duty or Title 32 status, or Title 10 status, or on regular drill weekends, drill periods, that's something we need to address in Congress.
So I'm hoping that extending additional benefits to Guardsman, especially as it relates to health care, getting them on TRICARE full time, is something that we should do. Our Guardsmen deserve it because they answer to call. Every time our country and our states need the Guard, we answer the call and we should support our Guardsmen and their families in that regard. So that's one of the things we'll be working on is health care.
You've mentioned your father and your family's service. What about your other mentors that have helped get you where you are? And what kind of mentor do you hope to be for younger Guardsmen and those from your hometown?
I think about those two Guard pilots, Stan Snow and Kevin Garcia, who came into my life probably at the perfect moment, at the right time and introduced me to the National Guard. It's because of them, I'm here today. But I think about, not just them, but others who have taken the time to mentor me as an officer to encourage me to continue to take advantage of opportunities for professional military development, to take opportunities to go outside of your comfort zone, do the jobs that people don't want to do, get a chance to get out of the cockpit and experience other things.
So that's what I try and do. I try and tell people as much as I can about the Guard, how it has changed my life, how it's benefited myself, both personally and professionally, how it supported my family when they've needed it. And, I just, I try to do what those two guys did for me 20-plus years ago.
---
AT A GLANCE: Rep. Kaiali'i Kahele
BORN: March 28, 1974, in Honolulu, Hawai'i
FAMILY: wife, Maria, and three children
EDUCATION: University of Hawaii at Manoa, B.A., 1998
CIVILIAN
OCCUPATION: Pilot for Hawaiian Airlines, previously served as an adjunct faculty member at the University of Hawai'i at Hilo
PUBLIC OFFICES: Elected to Hawaii's 2nd Congressional District in 2020; previously served in the Hawaii State Senate from 2016 to 2020
HOUSE COMMITTEE ASSIGNMENTS: Armed Services, Transportation and Infrastructure
MILITARY SERVICE: Commissioned into the Hawaii Air National Guard in 2001. Currently serves as a lieutenant colonel and C-17 Globemaster III pilot with the 154th Wing
OVERSEAS OPERATIONS: Deployed in support of the wars in Afghanistan and Iraq as both a C-130H and C-17 pilot, serving in Afghanistan in 2005, 2006, 2007, 2010, 2012 and 2013 and in Iraq in 2007, 2008 and 2012. Helped plan humanitarian assistance and disaster relief operations following the 2015 Nepal earthquake while assigned to the 613th Air Operations Center, facilitating the movement of 4.23 million pounds of cargo and 1,030 passengers during 254 sorties.
ALSO NOTABLE: In 2015, received both the Hawaii National Guard Association Outstanding Field Grade Officer Award and the Headquarters Pacific Air Forces Reserve/Guard Officer of the Year Award. Member of the U.S. All Armed Forces Volleyball Team in 2007 and the Air Force Volleyball Team from 2005 to 2007.