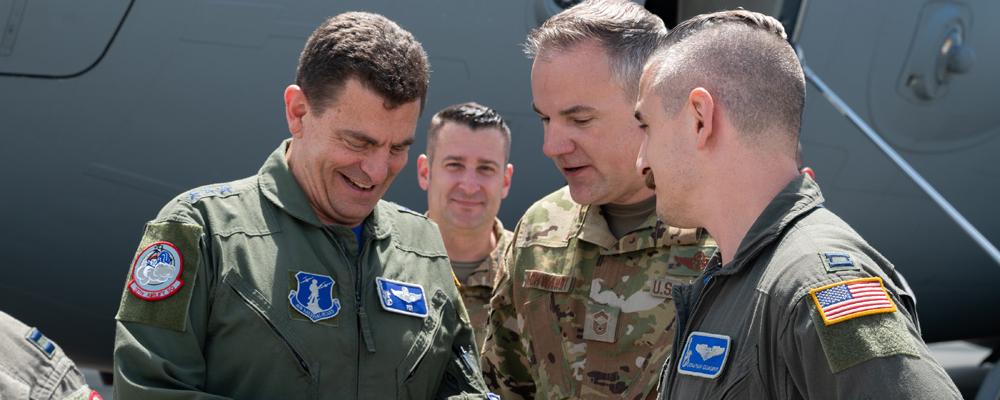 National Guard Magazine |
A Conversation with Lt. Gen. Michael A. Loh

Lt. Gen. Michael A. Loh is confronting largely the same situation he inherited in 2020 when he assumed responsibility for developing and implementing federal programs and policies affecting the Air National Guard.
The Air Guard still has the oldest aircraft fleet in the Air Force.
There has been some recent progress; a few new aircraft and some updates to older iron covered largely by congressional additions to budget requests. The Air Guard is also in some aircraft fielding plans over the next couple of years. But the sum won't alter the basic equation.
The root of the problem seems to be America's investment in its Air Force. Despite historic defense-spending toplines, the service is losing its edge in the skies over an increasingly bellicose set of adversaries.
Loh sat down with NATIONAL GUARD in late July in his Pentagon meeting room to talk about the Air Guard today and what the future may hold.
The conversation was edited for length.
You had some familiarity with the Pentagon and the ways of Washington when you took this position two years ago. Nevertheless, there are always surprises. What have you learned about life inside the Beltway in your first two years on the job?
The love for the National Guard. The love for what the National Guard does for national security, both inside the building — General [Charles Q.] Brown Jr., [the Air Force chief of staff] very much so, the Secretary of the Air Force [Frank Kendall] — and then I go out and talk about everything that we are doing, either on the Hill or at the think tanks. There is no shortage of amazing stories of what our airmen are doing. And there is no shortage of thanks from everybody for what the National Guard continues to do, both in the homeland and deploying overseas.
When you look at it since '91, the first Gulf War, we've experienced 31 years of continuous mobilizations. So, if there is a crisis somewhere in the world, the National Guard is moving. Coming from a state perspective where you didn't think we were appreciated enough, right? I have absolutely seen that appreciation up here [in Washington, D.C.].
I know you continue to get out and visit Air National Guard units overseas and at their bases here at home. What are commanders and airmen sharing with you about the force and its utilization?
I just came back from Europe. I saw a couple different units. One was the Vermont F-35 unit [the 158th Fighter Wing], their first deployment overseas. I also went out to see KC-135 units, C-130 units, all the stuff that we are doing at the 603rd [603rd Air Operations Center in Ramstein Air Base, Germany]. I've also been out in other theaters. The biggest thing they are sharing with me and what I see in their eyes is their pride in the mission. They love what they do for the United States Air Force. They love what they do with the Joint Force. They love what they do with their allies and partners. That is very evident.
Now, there are still some gaps, questions like, Now, I'm at this new theater of operations, how long is it going to last? What is the scheme of maneuver? Are we truly out of CENTCOM? How do we truly position ourselves to go to the Pacific? I get a lot of questions like that. What is going to be the long-term sustained utilization of the National Guard throughout this? Not just during the homeland defense 24/7 missions, but how we project air power overseas. They really like to know my insights and what we're going to do in the future.
We have 25 fighter squadrons between the ops and training, and we ought to have 25 fighter squadrons in the future.
One of your first actions as director was announcing Air Force plans to replace the Air National Guard's aging F-15C/D Eagle fighters with the F-35 Lightning II or the new F-15EX Eagle II. The program was to begin this year. But the service would now like to cut the number of F-15EXs it buys. What is the status of the F-15C/D recapitalization plan?
First off, the F-15C is an absolutely wonderful airplane. But it's on its last legs. It's like J-STARS [the E-8C Joint Surveillance Target Attack Radar System aircraft]. Quite literally, we are grounding jets that can no longer fly. We are consolidating the fleet to keep what we have going up until we can recapitalize. Currently, the Air Force position is to put the F-15EX in Portland [Oregon's 142nd Fighter Wing] and Klamath Falls [Oregon's 173rd Fighter Wing, the F-15 schoolhouse]. Jacksonville [Florida's 125th Fighter Wing] will get the F-35. And then the last three remaining F-15C units will either get the F-15EX or the F-35.
Am I concerned about the F-15EX buy? Yes. But am I concerned about our mission to do homeland defense? No. But we have got to figure out how that goes.
There is always going to be a natural tension between the requirements of the service and the amount of money that we have in order to spend. Right now, when you look at the National Defense Strategy and how we operationalize this, and then you look at the rest of the world and what is going on, it's how we get from here to there in the future. Some of that, quite frankly is, Where do I find the money. Where the Air Force is trying to find the money right now is buying less F-15EX, some offsets in divesting legacy aircraft to get the money to recapitalize to go in the future.
Where do I see our position? The position of the Air Force hasn't changed, so there have been no public announcements. So, right now, they will all be recapitalized with something. When you look at it, the Air Force wants to get down to a four-fighter fleet: F-22, F-35, F-15EX and F-16.
What is your vision for the rest of the Air National Guard fighter force of the future? Will the Air Guard be able to keep its current fighter squadrons or do you see that number decreasing?
The National Guard Bureau position is very clear. Right now, we have 25 fighter squadrons between the ops and training, and we ought to have 25 fighter squadrons in the future. When you look at the National Defense Strategy, the National Military Strategy, homeland defense being first, first strategic attack against U.S. allies and partners with the pacing threat of China, so none of that has changed. When you look at what's going on in the world, all of us believe that we need a healthy fighter force. Of course, that would be 25 fighter squadrons between operations and training in the Air National Guard. So, that one is going to remain as is.
More than 70 F-16 Fighting Falcons across 12 Air National Guard units now have new AESA radars. During the ceremony at Joint Base Andrews marking this achievement, you applauded the advocacy that made it happen. Do you see similar progress in the future for other Air National Guard platforms, like the A-10C fighter, which needs multiple modernization upgrades?
First thing, on the modernization side, I do sit on a ton of the legacy platforms. When you look at KC-135s, when you look at C-130Hs, how can I make them relevant to the battlefield not only today, but in the future? Most of those upgrades, and it starts with our airmen all the way through our weapons systems, is done with NGREA [the congressionally directed National Guard & Reserve Equipment Account] money.
The advocacy by the states, by industry, by associations like NGAUS, AFA and others has been wonderful in order to get the modernization required to keep some platforms relevant. Its upgraded their capabilities to quite literally, in some respects, better than what is in the active duty to fulfill missions like homeland defense. The AESA radar has also gone down range. When they went to CENTCOM, people saw the value of AESA radars and color multi-function displays.
The NGREA requirement for just the Air National Guard is roughly $700 million a year. I don't get that much money, so we prioritize among the fleets and what gives us most bang for our buck. We will field fast because I'm trying to get it to the war fight quickly. If we fail, we fail fast and readjust. We've had some really, really good successes. I'm taking commercial-off-the-shelf equipment, tier levels very high, and I'm bringing them to the warfighter quickly. When I do that, I'm not only bringing that for the federal Title 10 mission, like AESA radars for the homeland, but I'm also bringing in domestic capabilities. It's the only way to field equipment for domestic capabilities that we have to have, like comms suites.
Let's talk about the A-10. I'm sitting on a fleet of four A-10 squadrons. One right now, Fort Wayne [Indiana's 122nd Fighter Wing], is going to be recapitalized with F-16s. The planes are in [the president's fiscal 2023 budget request]. And I think Congress is going to let me do that this year. The last couple of years, they had restricted any movements of A-10s. This year is looking good. So, I need to make sure that that stays in place. That's No. 1.
Then, I have remaining A-10 units in Idaho, Maryland and Michigan. Go look at today's paper, there is an article in there that says even Ukraine, which is engaged in a modern land war, does not want the A-10. Guess who else doesn't want the A-10? The combatant commanders, except for some very niche areas. CENTCOM is not doing A-10s any more. We've got a 40+ year platform that is not desired. Am I going to spend NGREA money on the A-10? Sure. It is going to be much? Probably not. It's just going to be compliance issues to make sure, if indeed, it's called to a conflict that is has enough to make sure it's lethal, survivable and interoperable with the Joint Force.
How much of the discussion about the aircraft force of the future is driven by the budget versus meeting strategic goals in the National Defense Strategy and National Military Strategy?
I would say that there is a balance between the two. We get defense planning guidance directly from the Office of the Secretary of Defense that says here is what you must do. Then, we get fiscal guidance, oh, by the way, here is how much money. Like any budget, there is going to be tension.
Right now, the Air Force is truly at an inflection point. We are asked to provide two legs of the nuclear triad, plus the command and control of that nuclear triad, all on aging weapons systems that need recapitalization. We are being asked to recapitalize our force structure across all platforms in order to deliver capability to the future, while also enhancing our C2 capabilities through ABMS [Advanced Battle Management System] and others. And at the same time, shift our National Defense Strategy to our primarily pacing challenge of China. That is a very heavy lift for the United States Air Force.
So, there is going to be natural tension between the requirements to get all of those done because we are talking requirements from multiple combatant commanders: STRATCOM, nuclear enterprise; NORAD/NORTHCOM, homeland defense enterprise; TRANSCOM, our ability to move over long, long areas; CYBERCOM, we've had new ways of conducting warfare that is happening there; SPACECOM, those also.
And then you look at INDOPACOM, EUCOM, CENTCOM, AFRICOM, SOUTHCOM. If you stack a couple of these together, and you're talking about the pacing threat of China, you're looking at INDOPACOM with the nuclear-capable China. Then you are also looking at STRATCOM. The ability to move large things over: TRANSCOM. The new way of waging war: CYBERCOM/SPACECOM. All of those areas would be in there. Then we have a capacity problem and a capability problem. So, there is always going to be that natural tension and has to be a balance between the two.
So, I would say, yes, we have a topline, and inside that budget we are going to build the best, most capable Air Force that we can with the resources we are allowed to spend.
There is no shortage of amazing stories of what our airmen are doing.
There can be no argument that Air Guard units with their predominately part-time personnel and low-cost infrastructure are cheaper to sustain. Given that the Air Force is looking to save money to invest in next-generation technology, do service officials ever consider the Air Guard value proposition in their decision making?
Absolutely they do. When you look at where we're going in the future with the NDS, we're talking no longer than 30 years of rotational force presence. We're talking, no kidding, nation-state conventional warfare where we have mobilizations and where the homeland is potentially at threat and under attack. When you have all those together, the value of the Guard is actually looked at inside the PPBE [Planning, Programming, Budget and Execution] process of what we provide the nation for both homeland defense and our ability to rapidly mobilize and go overseas. Absolutely it is considered.
Another thing that is that value proposition you mentioned is that part-time force structure. Every airman can see themselves in the National Defense Strategy. Our part-time cooks may be enlisted, but they have an outside job doing something else. They are part of building a resilient Joint Force and they could also be a part of the defense ecosystem. You know, there is a number of our folks who have PhDs that are out there in their industries doing amazing things. There are actually leaders in their career fields. Then, they put on a uniform of the National Guard and serve. It's a wonderful value proposition for America. It's how we put together a  national defense, so it's absolutely considered when we are going to these talks.
The Air Force would also like to divest C-130H cargo planes over the coming fiscal years. They'll almost certainly come from the Guard. Did Air Force officials consider the Guard's domestic missions when setting those requirements?
I think that could be old data. Through the FYDP [Future Year Defense Program] we are looking at 271 C-130s, which means one Reserve unit gets recapitalized into MH-139 helicopters. And then it's been normalized to 271, so I don't think there is any more divestitures of C-130s, at least in the foreseeable future. They normalized that throughout the FYDP, putting the money in there.
We still are on the old H models, though. The modernization strategy for the H's and that and Congress was very generous last year, 16 that will recapitalize two units into J's. I have 63 H models left, plus the 10 LC-130Hs up in New York [109th Airlift Wing]. So, 73 left. I don't know what Congress is going to do; they have been very generous. But those 63 H models that are still left are getting all the modernization. They're getting AMP [new avionics]. They're getting the upgraded engines, propellers. We're getting the first one off the line some time in the next three to six months.
Most of the services, and not just the active-component Army, are having some difficulty recruiting this year. To what do you attribute the problem? How are you making sure young people are aware of the opportunities available in the Air National Guard?
We've had the perfect storm. First of all, our recruiters are doing some amazing things. But they've essentially been shut out of schools for about the past two years due to COVID, which is having a profound impact on the youth propensity to serve. We haven't had the opportunity to expose the Air Guard to them or their counselors. That's probably had the biggest impact.
Secondly, the economy is rolling. We have low unemployment rates and rising pay scales. We are competing with the civilian sector. Now, what are we doing about it? First thing we did is, obviously, make sure our recruiters are trained the best we can. We've done a lot of training. The other thing the Air Force has done very well is the Total Force recruiting effort. When you walk in to an Air Force recruiting office, we ask you a series of questions — full-time, part-time, local, move, so we can direct you into the appropriate area, active duty or National Guard. And what do you want to do in the service?
We are also giving $3,000 accession bonuses. That is for people who can ship quickly. If you are ready to go, we're ready to take you. The other thing is more local marketing. We've done a study on every state, every location where we have Guard units, where is the propensity to serve there? So we've made all the data available to the states. As you know, the Guard also has the ability to access across the active duty from all components so we have been doing very well at breaking down some of those barriers. All of those are coming together, but we're still not making it. And it's across every service and component.
For the Air National Guard, where I sit right now, I'm about 150 under on officers and about 2,400 low on enlisted out of 108,300. Last month [June] was a negative month, meaning I lost more than I gained. When you look at that, it's summertime and graduations, so I should be gaining. We'll continue to get after it. I get asked by Congress a lot on what they can do to help. We are looking at that and what it will take in the future.
Retention has been high. Once we get them in the Guard, show them the Guard model — hey, this is what we do for national defense — we work with them and their families, get them full-time jobs, either with us or the civilian community. That's actually been very good. We've been hitting our retention numbers, but it's the accession numbers that we're most worried about right now.
The Air Force recently published the Agile Combat Employment doctrine. How does the Air National Guard support this new construct? How do Air Guard members fit into the idea of multi-capable Airmen?
Great question. The first movers of Agile Combat Employment were the two commands that are out there getting after China and getting after Russia. When they looked at it, they looked at the threats and what we need to do in the airfields and layout and how they would fight the wars. They went back to what I would call the model that we had in the late 80s, which was, I can take off at one base but I may not be able to come back to that base because it became under attack. That's what we did back in USAFE in the 80s.
I've actually been on exercises were the base closed and we diverted to other airfields. Three different squadrons of people, an intermix of instructor pilots, flight leads and wingmen, different skillsets, came together and actually re-aggregated, reloaded and went back out there to deliver combat air power. In some ways, we are going back to the future, if you will. The future is Agile Combat Employment, how do I aggregate? The National Guard is a fast follower. After this was laid out and the Agile Combat Employment just came out, we've actually had folks doing Agile Combat Employment and testing it out and using multi-capable airmen to make this happen.
I just coined an airman from the Vermont Air National Guard. She, on the F-35, is a qualified crew chief, qualified avionics, qualified hydraulics and qualified maintenance. She came from an F-16 unit where she was deep into the F-16. She said the F-35 is a brand-new airplane, I want to learn these new skillsets and I'm now able to do all those tasks. The bottom line is, they turned two shifts of F-35s with five airmen.
I have the luxury of having very experienced airmen, so when you look at the National Guard, the multicapable airmen that I have, I have those civilian skillsets — teachers, lawyers, engineers, PhDs, all the way across. Plus, I have airmen dedicated on the weapons systems over a long period of time. When you look at the Agile Combat Employment, we are executing it with the Vermont Air National Guard in Europe today. And quite frankly, we are the first to execute it in Europe in an F-35, fifth-generation, fighter force. Fast follower that will actually exceed expectations.
In the Pacific, we've just sent out two C-130s out of Minneapolis [133rd Airlift Wing]. They went out there and met a Marine artillery unit, a HIMARS unit. They loaded them up in the back. They landed at some place they had never been before. They were able to because of the modernization efforts we put in the C-130 and HIMARS to downlink all the data that the HIMARS needed so when it rolled out of the back, it was ready to fire. Cool capability. Then, loading it back up there and taking it back.
Those missions don't happen without the experience level of our multi-capable airmen. And then executing that ACE concept. It was a charge from the chief of staff of the Air Force and others that are making all of this happen and challenging our airmen to think differently and go out there and execute. It doesn't matter where we take off or where we land, but we'll figure out how to get the mission accomplished.
---
AT A GLANCE
Lt. Gen. Michael A. Loh
BORN: Michael Anthony Loh, 1962 (Western Massachusetts)
FAMILY: Wife (Diane), two children
EDUCATION: U.S. Air Force Academy, Colorado Springs, Colo., B.S. Aeronautical Engineering, 1984; Trident University International, Cypress, Calif., M.B.A., 2011
COMMISIONING SOURCE: U.S. Air Force Academy, Colorado Springs, Colo.
MILITARY SERVICE: U.S. Air Force, 1984-1991; Colorado Air National Guard, 1991-present
PREVIOUS ASSIGNMENTS: Adjutant general of Colorado, Centennial, Colo., 2017-2020; National Guard assistant to the commander, Air Combat Command, Langley Air Force Base, Va., 2016-2017; Mobilization assistant to the commander, North American Aerospace Defense Command, Peterson Air Force Base, Colo., 2013-2016; Assistant adjutant general-Air, Centennial, Colo., 2011-2013; Special assistant to the Air Force chief of staff, the Pentagon, Arlington, Va., 2010-2011
OVERSEAS OPERATIONS: Provide Comfort II (Iraq) and Iraqi Freedom
ALSO NOTABLE: A command pilot with more than 3,200 flight hours (including more than 120 in combat), most of them in the F-16 Fighting Falcon. Also, a civilian air transport pilot rated in the Boeing 727, 737, 747-400 and 777. He flew for United Airlines. He is the son of retired Gen. John Michael Loh, the commander of Air Combat Command from 1992 to 1995. Served on the NGAUS board of directors as the TAG representative for Area VI from 2018 until his nomination to be Air Guard director in 2020.
Source: National Guard Bureau