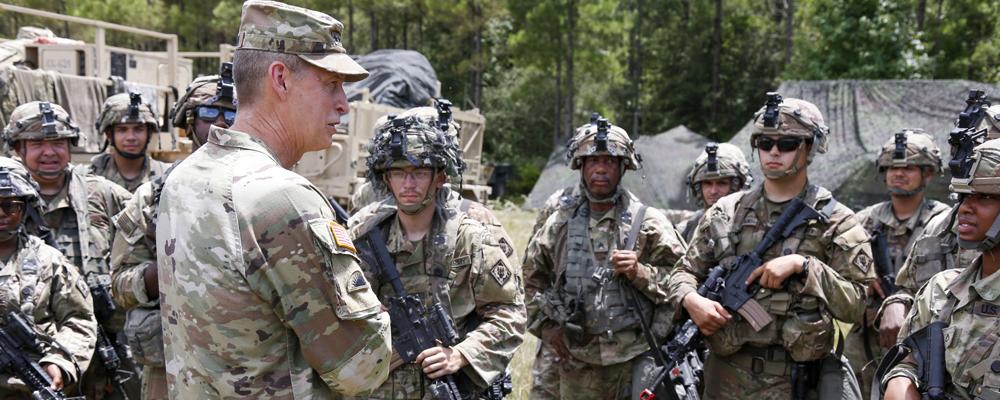 National Guard Magazine |
A Conversation with Gen. Daniel R. Hokanson

It can only help that the National Guard's senior officer is also its biggest fan.
When Gen. Daniel R. Hokanson, the chief of the National Guard Bureau, sat down with NATIONAL GUARD in May 2021, he said, "Our Guardsmen amaze me every day."
Nearly two years later, he still seems in awe. Hokanson says the best part of his job is getting out and visiting Guard soldiers and airmen wherever they are serving.
Those interactions give him plenty of material to share on Capitol Hill or in "The Tank"  with other members of the Joint Chiefs of Staff.
They also appear to reinforce his No. 1 priority: people.
Hokanson pushes no-cost medical coverage for every member of the Guard any chance he can. He also says Guard soldiers and airmen entitled to incentive pay deserve the same amount as their active-component counterparts for meeting the same standards.
The West Point graduate also advocates parity when it comes to equipment.
Hokanson sat down with the magazine in early January to talk about his priorities for the new year and some of the challenges the Guard faces.
Congress has set the personnel strength for the Army National Guard at 325,000 soldiers. That's 11,000 less than last year. How will this impact the force?
I try and look at this strategically and not tactically. We didn't meet end strength this year, but it was the first time in a long time. And what I'm seeing is, our states are taking a look at the environment and I think we will recruit to 325,000. And then we're going to show that we can recruit beyond that. First of all, we've got to make sure that we're absolutely solid at 325,000. But we need to grow beyond that to show the capability that we can still retain that core structure in the Guard and recruit to the levels that they authorize us to.
Do you think going down to 325,000 soldiers could have any impact on the capability, readiness or force structure of the Army National Guard?
Not yet, but we're watching that very closely. And that's why you'll see that "people" is our No. 1 priority. We have spent a lot of time talking with the adjutants general about the importance of recruiting. We're sharing lessons learned across states. We've got some states that are doing really well. Others are still working on developing their recruiting and retention. But at the end of the day, we've got to show that we can fill every single one of our formations to show value not only to the Army, but to the nation.
Recruiting shortfalls across the U.S. military, especially the Army, are getting a lot of attention. There are multiple schools of thought as to why this is such a challenging recruiting environment. What's your sense of things?
Every state I go to, I visit with the recruiters and ask then what they see. Why are people coming in? Where they're not coming in? And I think it's a cumulative effect of a lot of the things you've heard: The economy. The demand for workers. Also, a lot of companies that previously didn't offer educational benefits are offering them now. This is one of the big benefits of service in the National Guard. So, it's a much more competitive market now.
I also think recruiting was hurt by our inability to get into schools during the height of COVID and have face-to-face contact with a lot of potential recruits. There is kind of a snowball effect here. And now we're getting back into the schools. We're having more face-to-face interactions. We're also looking at other environments where we can reach young men and women. So, we're trying to find that balance. I think the states are really leading that. I know the recruiters are working really hard to meet their goals. And they're sharing what they're learning with each other.
Do you think the COVID-19 vaccine mandate had any impact on recruiting?
Initially, I think that was a concern by some recruiters. But as time went on, it was just another of many factors.
In September, you spoke to reporters about a potential new referral-bonus program that would pay Guardsmen for successful recruiting referrals. This sounds a lot like the old Guard Recruiting Assistance Program, which was very successful but also generated accusations of fraud. A few states have already created referral-bonus programs with state funds. Could a federal program be on the horizon?
That'll obviously be a decision by the services. But the way I look at it, we can't overlook anything. When you look at the current environment, our recruiters are doing everything they can. They're looking at all the different options, things that worked in the past, things that they haven't tried before that might work in the future. We're also looking at the states that have [referral-bonus] programs to see how successful they are. We know that we saw success under the previous program. But I think some of the things that we learned from that is we would need to make sure that the chain of command was involved, and that we put in the checks and balances to prevent some of the fraud that we saw earlier.
I know you like to get out and visit soldiers and airmen wherever they are serving. What are they telling you, and what impact do their thoughts have on your decision-making?
The biggest thing I talk to them about is finding balance between their civilian career, their military career and their families. And making sure that we do everything we can to not only take care of the service member, but also foster an environment that's conducive to their families and their civilian employers. So, that's one of the things we look at very closely. I also talk to them about readiness, making sure that they're individually ready. We build unit-level readiness to meet all the requirements of the services.
Frankly, the Guardsmen I meet are all very excited. Many of them either have gone on deployment and they can't wait to go again or they're looking forward to their first deployment. When they come into the Guard today, that's the expectation, that they're not only going to serve in their communities, but they're going to serve their nation potentially somewhere overseas.
And when I see them, many times it's during a domestic response, like the hurricane response, the flood response, the rescues that we saw over the past year. I mean, just the level of excitement and pride and their ability to make a difference in their communities. It's just awesome to hear it directly from them.
You must enjoy getting out and talking to the troops.
The best part of my job is getting out and talking to Guardsmen, seeing what they're doing, seeing their excitement and knowing that everything we do here is to support them showing up on their drill weekend and being ready to do whatever we ask them to do.
Was there a visit in 2022 that particularly stood out?
There were so many. Each one is like I just said. For instance, visiting Kentucky immediately after the flooding [last summer] and talking to the air crews and the personnel that were there responding and saving so many lives. Also, the recent storms, keeping in touch with New York, all the things that they were doing particularly over New Year's and Christmas. All the great work that they did. But frankly, I saw excitement in every state and territory I went to. It just makes me really proud to be part of this organization.
You went over and visited with the Florida National Guard's Task Force Gator last summer when they were in Germany. They were one of the last units, if not the last unit, to leave Ukraine. What was that visit like?
It was really awe-inspiring to see the connections and the relationships they had developed with their Ukrainian counterparts. And then the struggle for them to leave the country just prior to the war starting, but then maintaining that communication and knowing at some point they would continue to train them and then being ready when we started training the Ukrainian soldiers again in Germany, their ability to reconnect immediately and understand what the importance of the mission was that they were doing. And then to get after it right away.
The chief of the National Guard Bureau has now been on the Joint Chiefs of Staff for more than a decade. It's been you for the last two and a half years. What has a seat at the table meant to Guard soldiers and airmen nationwide?
It's very, very important. When you look at the National Guard, we're more than 20% of the Joint Force. Next to the Army, we're the largest military organization in the Department of Defense. We've got eight full divisions, 90 wings. We bring incredible capability to our nation. Look at all the missions the Guard has done since we came off COVID-19. We met every single overseas mission. We met every single requirement here at home. And we did so many things for communities related to COVID-19. So, I think it's super important that the Guard is represented there because we do so much for our nation.
Does anything occur regularly in the meetings of the Joint Chiefs of Staff that might surprise Guard soldiers and airmen?
Just the importance placed on what they do every single drill weekend, during annual training and during the mobilizations. Everything they do is visible at the highest level. So is the impact they have as an individual, as a small team, as a company or squad or flight element. The impact they have not only on their community but at the national level is something I wish more Guardsmen could see. I'm the lucky guy that gets to tell their story. And it's an incredible story to tell.
What are the reactions from some of your peers in the Joint Chiefs when they hear some of these stories or when they get out on their own and see what the Guard is doing?
I get a lot of feedback from other members of the Joint Chiefs of Staff when they go downrange and meet Guardsmen. I also hear it from combatant commanders. Like Central Command, for example. They had like a Shark Tank on innovation where personnel could offers ideas to help improve CENTCOM. A Guardsman from Massachusetts won that competition [The 54, page 33]. He came up with a training program to counter unmanned aerial systems. And the combatant commander [Gen. Michael E. Kurilla] sent me a note. He said, "Hey, this is amazing what your Guardsmen can do." And that's just one of many of the examples that I hear all the time.
A question about Army Guard divisions. When you were director of the Army National Guard a couple of years back, you made it a priority to realign and reorganize the Army Guard divisions to be capable of multi-domain operations. Why is this important to the National Defense Strategy?
The Guard is absolutely critical to the National Defense Strategy. That means we've got to be modernized and capable of operating in any environment. And when you look at the Army's future in multi-domain operations, we've got to make sure that the National Guard is part of it, and we can operate in that environment because we're so important to the Joint Force. We've got to be able to fill any role anywhere, anytime that our nation needs us.
Health care for every member of the force is one of your legislative priorities. At the NGAUS conference in August, you called no cost health care a "strategic moral imperative." What's the source of your passion on this issue?
Look at the investment that our Guardsmen make in becoming a member of the National Guard. They give up most of a year to go through basic and additional training or their tech school to train them to do their job. That's time away from their families and employers. Our nation has made a huge investment as well. We need to make sure that they're medically ready to do that job.
Go back to COVID-19. We had never seen anything like that previously in the Guard, the large number of folks that we brought on orders in a short amount of time. We just don't know when that kind of event is going to occur, or when our nation may need us for anything else. We also need to make sure that when Guardsmen need medical care when they're injured, whether it happens during drill or not, or annual training, that they get the care they need so that they can step on the field and play the position that they've been trained to play.
You've mentioned domestic responses in our conversation. Some of the work is in dangerous settings — floods, wildfires. Soldiers and airmen could get hurt. These missions are typically conducted on state active duty, which does not provide health care. Does this concern you?
Absolutely. Anytime our Guardsmen are on duty, I want them to have health care, and this goes back to their civilian career as well. Because in many cases, our Guardsmen are at their civilian job when they get the call. Hey, we need you right now. We have to make sure that that they have medical coverage, so that they can get the care they need to be healthy enough to meet the medical requirements of whatever we ask them to do.
We've had bills introduced in the last session of Congress that would provide no-cost health care for every member of the Guard and Reserve. So far, the legislation hasn't gained a lot of traction. What will it take to win Congress over on this issue?
I think it's continually informing them of the scenarios that make this so important. And also explaining to them the challenges that we face. Like any organization, you have a number of folks that are non-deployable. For us, we need to reduce that number and hopefully one day eliminate the number of non-deployables so when they look at the force structure and the number of personnel resources, they know that they can access almost all of them.
What are some of your other priorities for 2023?
I kind of take the strategic look at this — people, readiness, modernization and reform. Those are all still relevant. In terms of people, besides health care, we need parity on incentive pay. We want to get to the point where if our Guardsmen are assuming the same level of risk as their active-duty counterparts, the compensation should be the same. We also need to help our Guardsmen balance between their civilian career, their military career and their family.
In terms of readiness, we have to continue to train to meet all of our readiness requirements because of the many roles the Guard fills, not only overseas but here at home. And in terms of modernization, we're working very closely with the Air Force. Our fighter fleet is a great example of our modernization needs in the short term because we have a lot of aging aircraft.
You mentioned incentive pay. Currently, Guard soldiers and airmen receive only a fraction of the incentive pay of their active-duty counterparts. There is a provision in the fiscal 2022 National Defense Authorization Act that mandates incentive pay parity, but the law requires the Pentagon to certify the change will not adversely impact any component. Capitol Hill is still waiting for that report. Where do things stand on that?
I don't know exactly where the report stands in the Pentagon. I do know that we completed our portion of it. I think it is a great program to really look and acknowledge the importance of highly skilled folks. If our pilots are flying the same amount of hours as their active-duty counterparts, the incentive pay should be the same.
You mentioned modernization. The Army and the Air Force had some very ambitious modernization plans. What assurances have you received from service leaders that the Guard is fully a part of those plans and not a bill payer?
That's really working with my fellow Joint Chiefs, in this case, General [James C.] McConville and General [Charles Q.] Brown, Jr. And when we look at General McConville, he always wants to make sure that the Guard is part of that modernization process — whether it's armored vehicles, future vertical lift, multi-domain operations or multi-domain capable task forces — to ensure that the Guard is part of it.
And on the Air Guard side, when you look at the fielding of the new F-35 fighter, the F-15EX fighter, as well as the KC-46 tanker and many other systems, making sure that the Guard is part of that. And as active units are fielded, we also want to field Guard units so they're modernized with their active-duty counterparts. So that at the end of the day, as part of the Joint Force, we all need to be interoperable on whatever environment we operate in.
Is it your sense that the Guard will be included in these plans?
Yes.
The National Defense Strategy calls China the nation's pacing threat. To what degree will China's growing influence on global affairs impact the Guard?
Kind of going back to my point earlier, when you look at the National Guard, we're 20% of the Joint Force. Anything that we do or that China does is something that we have to be prepared for. And so we need to make sure the Guard is modernized, we're interoperable, we're part of the Army, the Air Force and the Joint Force. And so whatever the forces are asked to do, the Guard has got to be part of that.
You were once the adjutant general of Oregon, which has a partnership with Vietnam. You are familiar with that region of the world. What should Guardsmen be aware of in terms of the threat from China and China's overall goals in that region?
This really kind of goes back to every single drill weekend, when our Guardsmen show up on a drill weekend and build individual and collective readiness. When we do this at annual training, when we do this during deployments. What we do is show that we have a reserve component, in this case the National Guard, which is 20% of the Joint Force, which can meet our readiness requirements. And we are able to do whatever our nation asks us to do. And so, every single one of us showing up on a drill weekend, focusing on our individual and collective readiness, helps build that readiness and really helps answer that question.
The war in Ukraine has been going on for almost a full year now. You're a combat veteran. What do you see as the lessons learned for Guard soldiers and airmen from that conflict?
So, the No. 1 thing there is the importance of readiness. We never know when things are going to happen or we may get asked to do something. As a result, we always have to be individually and collectively ready.
The other thing it shows to our Guardsmen is the importance of our State Partnership Program. California and Ukraine have been partners for 30 years. They've developed close relationships. There is also the training that we did with the Ukrainians as we brought up with Task Force Gator, and all the Guard brigades prior to that. We've helped train them and work together with them, so that they can be in a position where they are today.
Obviously, many people thought that that war might be over in a short amount of time. We're coming up on almost a year. And I think the Guard's connectivity with Ukraine was really helpful. And when you look at all of our other NATO allies, and also the state partners in that region, I think it has shown the importance of those continued long-term relationships that we have with those countries.
You've obviously had a lot of mentors over the course of your career. What is the best leadership advice you've ever gotten? And do you still apply it to your day-to-day activities?
It's hard to narrow it down to one, but I think the overarching principle would be to lead by example. There's a lot of things that obviously fall into that. Obviously, we have to take care of our soldiers and airmen and their families, because without them, we wouldn't be an organization. We wouldn't have all the incredible capabilities that we have. And so, I think, really, first and foremost, that's it.
And I would also say I got from one of my prior mentors was when you take a look at all the things that you want to accomplish, if you can accomplish 10%, sometimes you'll be successful beyond your wildest dreams. But the key is to make sure that it's the right 10%, that you're focused on those things that are most important, that are going to have the greatest impact on the organization, and making sure that you get those done at the end of the day.
---
AT A GLANCE: Gen. Daniel R. Hokanson
BORN: Daniel Robert Hokanson, June 27, 1963 (Happy Camp, California)
FAMILY: Wife (Kelly), three children
EDUCATION: U.S. Military Academy, West Point, N.Y., B.S. Mechanical Engineering (Aerospace), 1986; Naval Postgraduate School, Monterey, Calif., M.A. International Security and Civil-Military Relations, 2000; U.S. Naval War College, Newport R.I., M.A. National Security and Strategic Studies, 2001
COMMISSIONING SOURCE: U.S. Military Academy
MILITARY SERVICE: Active-component Army 1986–1995; Oregon Army National Guard 1995–present
PREVIOUS ASSIGNMENTS: Director, Army National Guard, Arlington, Va., 2019-2020; Vice chief, National Guard Bureau, Arlington, Va., 2016–2019; Deputy Commander, U.S. Northern Command, Peterson Air Force Base, Colo., 2015–2016; Oregon adjutant general, Salem, Ore., 2013–2015; Commander, 41st Infantry Brigade Combat Team, Multi-National Corps - Iraq and Portland, Ore. 2008–2010
OVERSEAS OPERATIONS: Just Cause (Panama), Enduring Freedom (Afghanistan) and Iraqi Freedom
ALSO NOTABLE: Command pilot with more than 2,500 flight hours, including over 50 hours in combat, in the AH-64 Apache, OH-58 Kiowa, TH-55 Osage, UH-1 Huey and UH-60 Black Hawk. A former member of the U.S. World Helicopter Team.
Source: National Guard Bureau