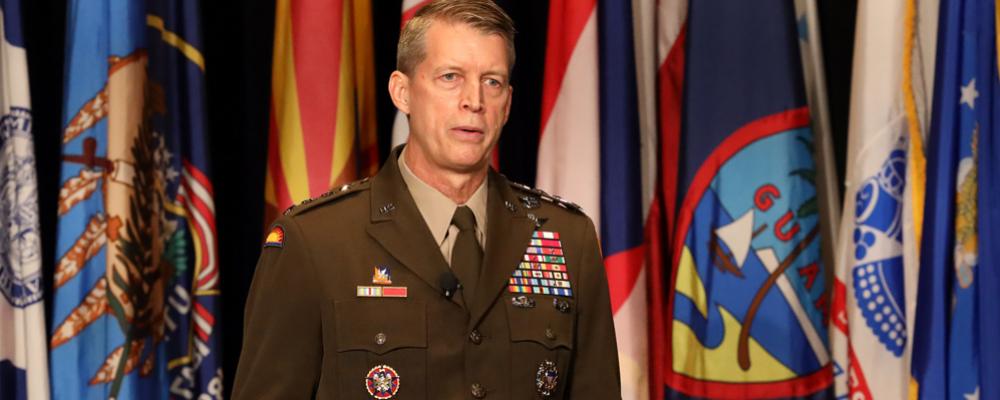 National Guard Magazine |
A Conversation with Gen. Daniel R. Hokanson
The National Guard's new senior officer didn't begin his military career in the Guard. Gen. Daniel R. Hokanson is a West Pointer. He graduated from the U.S. Military Academy in the same 1986 class as former Defense Secretary Mark Esper, former Secretary of State Mike Pompeo and Gen. Joseph M. Martin, the Army's vice chief of staff.
He went on to serve nearly a decade in the active-component Army as an aviator, seeing action in Operation Just Cause, the 1989 U.S. invasion of Panama.
He left the active component for the Oregon Army Guard in 1995. His first assignment was as aide to the state's adjutant general Maj. Gen. Fred Rees, who also happened to be a West Point graduate who transferred to the Oregon Army Guard.
Hokanson never looked back, rising through the ranks in Oregon to become the adjutant general before moving to the National Guard Bureau after a tour at U.S. Northern Command.
"One of the best decisions I ever made," he now says of his transfer to the Guard.
Hokanson is the 29th NGB chief and a member of the Joint Chiefs of Staff. He is responsible for ensuring the more than 440,000 Guard soldiers and airmen across the 50 states, three territories and the District of Columbia are ready and accessible to protect the homeland and provide combat-ready units to the Army and Air Force.
He connected with NATIONAL GUARD recently via video-teleconference to talk about his priorities as Guard Bureau chief.
Your career progression would seem to have prepared you well to be chief, but there is nothing quite like actually sitting in the seat. Has anything surprised you about the roles and responsibilities of your position in your first few months on the job?
The one thing I have seen throughout every level of my career, which is not a surprise, is how our Guardsmen amaze me every day in what they do, what their nation asks them to do in their communities.
Look at the past year. None of them have ever been involved in any kind of significant pandemic response or civil disturbance operation. When you look at what we're able to do, it's truly unbelievable. And I was very fortunate in light of the opportunities that I was given in my career to get me here.
Aside from that, you realize a lot of the decisions that get to my desk got here because they couldn't be made at a lower level. I think staying in contact with our soldiers and airmen throughout the 54 is important. You want to do everything you can to support them so they can do the mission and everything our nation asks them to do.
New leaders typically enter a position with a few priorities. What are yours?
My priorities are, No. 1, people, because we couldn't do anything if our National Guardsmen and women didn't show up on their drill weekend and find that balance between their civilian career, their military career and their family. So that has been and will always be my highest priority.
After that is readiness. You look at why we have a National Guard — we are the primary combat reserve of the Army and Air Force, and we have to meet the readiness requirements of our services, to be able to do anything they ask us to do. We also have to be ready for anything our governors ask us to do.
After readiness is modernization. Of course, in any reserve force, particularly the National Guard, readiness is always a concern. I want to make sure that every piece of equipment we have is deployable, sustainable and interoperable [with the Army and Air Force]. We know our nation can't modernize everything it wants, but we know that we need to be on that plan to get modernized when those resources become available. Not at the end, but throughout that process.
We always talk about equipment with respect to modernization, but a lot of it is also the process, sometimes called bureaucracy. We want to update processes so we can operate at the speed we need to support our Guardsmen, so they can do their jobs.
My final priority is reform. When I look at reform, it's a lot of things. It's innovation, but I'm more focused on implementing innovation because there are a lot of great ideas, a lot of great products out there and great things we can do. I want to actually implement them and see if they have application to the National Guard. If they do and can improve the way we perform our missions, develop readiness, train and better take care of our people, then I want to implement those at scale. And so, when I talk about reform, I'm talking about looking at everything we do, reducing things we don't need to be doing, reducing bureaucracy, and really focusing on unity of effort and organization. Then, implementing those things that make us a better organization.
If you look at these four things — people, readiness, modernization and reform — there is a lot of work behind it. When you look at where we are today, we've gone from a strategic reserve to an operational reserve and what I've told my staff here is, we need to build the foundations that allow us to sustain an operational National Guard.
Providing no-fee medical coverage to every Guardsman is one of your legislative priorities. It also tops the list at NGAUS. Opponents of this in the Pentagon and Capitol Hill will decry the cost. What is your counterargument?
I go back to my priorities. No. 1 is our people. This is a chance to really take care of them. Right now, we estimate about 60,000 Guardsmen don't have health insurance. I know TRICARE Reserve Select is an option, but for some of our lower-ranking part-time soldiers and airmen, the premium is still a substantial cost to them.
We ask our soldiers and airmen to be always ready, always there. That's our motto. So they have to always be medically ready. And for those who don't have coverage, you have to wait to come on orders to have medical care. We prefer the preventive approach. They need to be able to get care when they need it.
Also, when they come on federal orders for less than 31 days, medical coverage isn't included. If we have enduring medical care for them, they can establish a long-term relationship with a care provider and not have to go from one system to the other and back again.
Ultimately, they need to have the peace of mind, their families need to have the peace of mind and their employers need to know that if something happens to them while on or off orders, they are going to get healthy and get the care they need to get back to 100% so they can once again continue to serve our nation, continue with their civilian jobs and take care of their families.
Would you see this as a benefit for recruiting and retention?
Absolutely. Our ability to provide health care would also benefit a lot of employers. They know if they hire someone in the National Guard and that person already has health care, it's one less expense for them. The other thing, and we don't know the correlation of this, is the ability to provide mental health or counseling to all of our soldiers and airmen would be of some benefit.
You've also spoken recently about full-time manning in the Army National Guard. Only 16% of Army Guard is full-time, by far the lowest percentage of all the reserve components. But it has hasn't changed in many years, despite an increasing tempo. Why hasn't this issue gotten more traction?
We've had various efforts throughout the years take a look at this issue. I asked the staff to take a step back and re-look at it from the National Guard Bureau perspective through a team called UNO. I've asked the team to look at combining and developing a more synchronized and efficient bureau staff. The reason I mention this is we want to leverage every single full-time resource we have. Once we've done that here at the bureau and internally align full-time resources to make the best difference for the 54, then we've done everything we can and will need help from the outside.
This issue is always about resourcing. Full-time manning is expensive. In fact, personnel costs are the greatest cost to the military. When we look at the need for full-time manning and the Army Guard, we do need it. The requirement has been established based on the formations we have. To man at 64% puts an excessive burden on the remaining full-time force. It also makes us less efficient. If we increase our full-time manning, we can make more efficient use of our M-Day soldiers' time, which improves our readiness. It would increase our ability to be more ready in less time, and allow our soldiers to focus more of their time on training, not tasks traditionally done by the full-time support force.
The challenge here is that the Army absolutely has to modernize, as does the National Guard. We would not want the full-time support expense to take away from the modernization of the Army. But, if we could get support added to the Army budget to pay for full-time manning, it would pay a huge benefit to the National Guard.
We call today's National Guard an operational reserve. What else does the Guard need to truly function as an operational reserve?
We have to be manned, trained and equipped and, frankly, the bureau needs to be organized to support the 54. We need to reduce as many impediments to building readiness as possible so our soldiers and airmen can do whatever they're asked to do. Full-time manning certainly has added another aspect to this. By ensuring everything is ready for our soldiers and airmen when they show up to drill, they can get into their formation and get the training to do those things they signed up to do. I think that only helps our readiness.
The past 20 years we've gone from a strategic reserve to an operational National Guard. We have to help build the foundations organizationally so that we can sustain that operational National Guard into the future.
You are now the senior officer in the National Guard, but you don't actually have command or budget authority. How do you get the adjutants general and units nationwide moving in the same direction toward your priorities?
Frequent communication, information sharing and requests for input into key decisions are all critical to fostering that successful relationship with the states. Let me use an example: If you look at the events in our nation's capital this January, we asked for support from all of the 54. Initially, it was 6,000 personnel, then it was 10,000 and that number continued to climb when they looked at the need to make sure we had a peaceful transition of power on January 20th. All of the 54 National Guard sent folks to the nation's capital. We had 26,000 in less than two weeks. It was Army Guardsmen, it was Air Guardsmen from every single National Guard. We used Air Guard assets and logistics from both the Army and Air Guard to make all of this happen.
It was the relationship with our adjutants general that made this happen with all of us wanting to do the right thing for our nation. Everyone realized that and jumped on board to support us the best they could. They did so while balancing a lot of requirements within their states and were able to meet both requirements. That says more than anything — their ability to do this when their nation called for support on short notice.
We seem to be very close to seeing the establishment of the Space National Guard. It wasn't long ago that this didn't seem to be such a sure thing. What's changed in the Pentagon's thinking?
I think it's just the effort of constantly working with both the secretary of the Air Force and chief of space operations and prior to that, the Air Force, to recognize the National Guard has been in the space mission for over 25 years.
We have a lot of very skilled and experienced space professionals. And they chose to be in the National Guard. We have unit-equipped organizations, manned, trained and equipped to support the warfight. And I think the capability and capacity they bring to our nation has been recognized for how important that is. It's just the right thing to do to include the Space Force.
The Guard's continuing high operations tempo at home does come with some costs. Thousands of Guard soldiers and airmen have spent a lot time away from family and civilian jobs with limited notice over the past year. Do you have any concerns that maybe the states and the nation are relying too much on a part-time force when times get tough?
This really goes back to our people. I stay in very close communication with our adjutants general and I try to talk to soldiers and airmen everywhere I go to see what the impact is. How close we get when we look at that balance between their civilian career, their military career and their family. We know we turn the op-tempo up more at some times than others, but what we are trying to do is find that balance so that we can do that.
When you look at what we've been asked to do, and I'll use COVID as an example, we are authorized to have 80,000 on duty, but today, we only have 32,000. So I think our adjutants general and our governors realize the value and importance of finding that balance. Even though we are authorized at 80,000, we are only using 32,000 because that's what they determined is the minimum number necessary to do what they're being asked to do. So I think across the board, all of us want to reduce unnecessary op-tempo on personnel whenever and wherever we can.
You also attend threat briefings and tank meetings with the other Joint Chiefs. What threats and what parts of the world have your attention these days?
We look at all the same things you read in the newspapers every single day. And I think our Guardsmen are very well informed about what's going on around the globe. You look at China, Russia, Iran, North Korea, extremist organizations, but then you also look at something like COVID. It's killed over 500,000 Americans. And so sometimes it's a threat we never saw coming. What we have seen over the past year is whatever the threat is, our Guardsmen are there. They are going to do whatever our nation and communities ask them to do – to address it and make the difference they can. It really goes back to our motto: Always Ready, Always There.
It's a very complex security environment around the globe and we are working with our services to make sure our Guardsmen are ready for whatever they're asked to do.
No components need modernization more than the Army and Air National Guard, which rely on some of the oldest vehicles, aircraft and other systems in the U.S. military. But the projected limited growth in defense spending in the years ahead will likely create some very tough modernization choices for service leaders. What assurances do you have from them that the Guard will remain in Army and Air Force modernization plans?
When you look at the National Guard, we're 20 percent, or about one-fifth, of the joint force. In my meetings with the Joint Chiefs of Staff, we all want to do what's best for our nation and make sure every aspect of our force is capable for whatever it is going to be asked to do. Specifically for the National Guard, with General [James C.] McConville [the Army chief of staff ] and General [Charles Q.] Brown [the Air Force chief of staff ], we are in constant conversations with them and their staff to make sure the National Guard is included in their modernization programs and priorities.
You see examples on the Army side with armored vehicles, future vertical lift, long-range precision fires, a lot of the future concepts the Army is developing. On the Air side, you look at the modernization of C-130s, the F-15EX fighter to replace our F-15Cs, and also soon we will be fielding our second F-35 fighter squadron.
So the services have realized the value. And many have always known the value the National Guard brings and the recognition of that is upgrading and making us part of modernization plans. They understand the capabilities we bring to our nation.
In a recent Congressional hearing you mention the C-130Hs which is the predominant C-130 the Guard flies. There are four units set to convert to the newer C-130Js, but yet the Air Force would like to cut some of the Guard's C-130 units. I take it you've had some conversations with the Air Force on the importance to the domestic mission of the C-130s.
Yes, we have. Both [Lt. Gen.] Mike Loh [the Air National Guard director] and I have had those conversations because the domestic requirements we ask of our C-130 crews and aircraft are sometimes overlooked. I think the Air Force is recognizing that. We just want to make sure we have the capability and capacity our nation needs, not just overseas, but also in the homeland. Because when you look at the future, the homeland is no longer a sanctuary. You've heard that term a lot. We need to prepare to respond to anything our nation needs us to do, whether it's overseas or here at home.
The UH-60 Victor program is a key part of Army plans to modernize the Army National Guard Black Hawk helicopter fleet. As you are well aware, the V-model UH-60 is a product of retrofitting an older UH-60L with new components, including a digital cockpit. But the program is way behind schedule. It was supposed to reach full rate production in 2024. Now, the Army says it will be 2026. You're an aviator. How confident are you that the Victor program will overcome manufacturing delays and remain viable?
As an aviator, when I first got wind of this, I reached out directly to the Army and Brig. Gen. Dave Hall, who works on the Army Guard directorate and is tracking this very closely. I received assurances from the Army and the contractor that they will meet their timelines. Unfortunately, like many industries, COVID is having an impact [on their timelines], but I believe they are still scheduled to get our first ones up to EATS [the Eastern Army National Guard Training Site National Guard at Fort Indiantown Gap in Annville, Pennsylvania] for training. We're still on track to field our first battalion in FY22.
We'll continue to watch that closely because it is an important program and it's a lower-cost option to give advanced or increased capabilities to our Guard units.
There has long been a view in the states and territories that tour officers at NGB stay too long and end up losing touch with the realities of Guard service in the field. What's your impression?
When I work with these men and women every single day here at the National Guard Bureau, they are doing everything they can to support the 54. This is made possible because adjutants general send some of their best officers and NCOs up here for this experience. We work closely with the adjutants general so they can send folks here for a tour, and then bring that experience back to the state. We then replace those returning with other folks coming from the states.
It's absolutely critical that everyone here understands we have to do everything we can so that guardsmen can show up on drill weekend or AT to build readiness, capability and capacity for our nation. If we're not doing everything we can to help make that happen for the 54, then we are not doing what we're intended to do.
You mentioned this has been quite a year. The Guard is doing things no one had planned to do: COVID, the incidents of civil unrest across the country last summer. When you meet in the tank with the other chiefs, what are they saying to you about the Guard?
It's interesting. I've had members of the Joint Chiefs saying, "Gosh Dan, Your folks are doing incredible work." And many of them had the opportunity to stop by and visit with our soldiers and airmen when they were at the Capitol. And they all said the same thing, "It was just uplifting to get a chance to see these men and women from everywhere across the nation who left their civilian jobs, who left their families and came to the nation's capital for when they were needed." They were here to do their mission. They were proud to do it. And when their mission is done, they go back home. It was pretty awesome.
They all recognized what the National Guard did and what our nation asked them to do. When you look at the fact we just passed our ten millionth vaccination on the fifth of May, and we have 32,000 Guardsmen out there today helping with COVID response and vaccinations, they realize as well, the difference we are making for our nation.
---
AT A GLANCE: Gen. Daniel R. Hokanson
BORN: Daniel Robert Hokanson, June 27, 1963 (Happy Camp, California)
FAMILY: Wife (Kelly), three children
EDUCATION: U.S. Military Academy, West Point, N.Y., B.S. Mechanical Engineering (Aerospace), 1986; Naval Postgraduate School, Monterey, Calif., M.A. International Security and Civil-Military Relations, 2000; U.S. Naval War College, Newport R.I., M.A. National Security and Strategic Studies, 2001
COMMISSIONING SOURCE: U.S. Military Academy
MILITARY SERVICE: Active-component Army 1986-1995; Oregon Army National Guard 1995-present
PREVIOUS ASSIGNMENTS: Director, Army National Guard , Arlington, Va., 2019-2020; Vice chief, National Guard Bureau, Arlington, Va., 2016-2019; Deputy Commander, U.S. Northern Command, Peterson Air Force Base, Colo., 2015-2016; Oregon adjutant general, Salem, Ore., 2013-2015; Commander, 41st Infantry Brigade Combat Team, Multi-National Corps - Iraq and Portland, Ore. 2008-2010
OVERSEAS OPERATIONS: Just Cause (Panama), Enduring Freedom (Afghanistan) and Iraqi Freedom
ALSO NOTABLE: Command pilot with more than 2,500 flight hours, including over 50 hours in combat, in the AH-64 Apache, OH-58 Kiowa, TH-55 Osage, UH-1 Huey and UH-60 Black Hawk. A former member of the U.S. World Helicopter Team. 
Source: National Guard Bureau