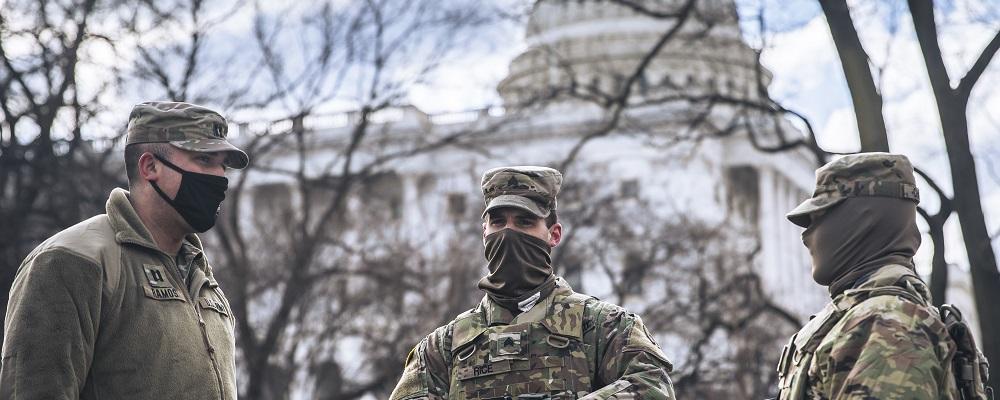 National Guard Magazine |
Capitol Mission Extended Despite NGB Pushback

Defense Department officials have extended the National Guard mission at the U.S. Capitol another two months — despite pushback from lawmakers on both sides of the aisle, the chief of the National Guard Bureau and NGAUS.
Nearly 2,300 Guardsmen will be on duty at the Capitol through May 23. The number is a little less than half of the 5,100 stationed there March 12, when the mission was supposed to end.
The Capitol Police requested the extension in late February. It triggered opposition within the Pentagon, with Gen. Daniel R. Hokanson, the NGB chief, "non-concurring" in writing with the decision to grant the request.
He cited initial difficulty in finding enough volunteers for the mission with increasing COVID-19 missions at home as well as training obligations.
Some states refused to keep Guard troops in Washington, D.C. Among them was Michigan, which had roughly 1,000 in the nation's capital earlier this month.
The Guard did find enough volunteers. They come from 11 states and the District of Columbia, according to NGB.
Maj. Gen. Michael McGuire, the NGAUS chairman, and retired Brig. Gen. J. Roy Robinson, the NGAUS president, echoed the NGB chief 's sentiments in a statement March 12, saying the difficulty in finding volunteers had nothing to do with any reluctance to serve.
"Rather, it is a reflection of the continuing demands of training and missions back in the states on a predominantly part-time force that must always balance military duties with civilian employers and families," they said. "It is also increasingly difficult to convince Guard soldiers and airmen that their continued presence at the Capitol is warranted."
Leaders of the House Armed Services Committee from both parties said they were "deeply troubled" by the continued heavy military presence at Capitol, calling instead for a drawdown.