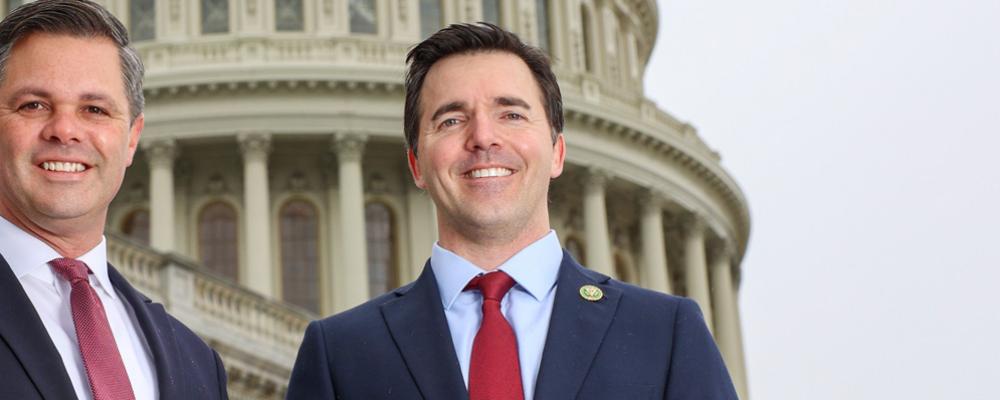 National Guard Magazine |
Additional Duty
Two fresh faces in the 118th Congress need no introduction to the National Guard.
Rep. Jeff Jackson, D-N.C., and Rep. Zach Nunn, R-Iowa, have lived it for many years and plan on continuing their service in uniform.
Jackson, 40, is a major serving as an Army Guard judge advocate general in the North Carolina National Guard Joint Force Headquarters in Raleigh.
Nunn, 43, served in the Iowa Air Guard from 2014 through last year. A lieutenant colonel, he commanded the 233rd Intelligence Squadron in the 132nd Wing from 2018 until January, when he transferred to the Air Force Reserve with an assignment at the Air War College in Maxwell Air Force Base, Alabama.
"I got to be part of my community and still serve my country," Nunn says of his Guard tenure. "I love being a citizen soldier.
"One of the unique things that Guardsmen and Reservists bring [to Congress] is that we have this twin opportunity to be both military experts as well as, in this case, policy experts," Nunn adds.
With only 80 current members of the House and 17 in the Senate having served in uniform, according to the Pew Research Center, that experience is more important than ever for informing lawmakers and the public, Jackson says.
"Given the persistence of national security as a political debate and a policy-making challenge, it is really beneficial to have people who have experienced firsthand the consequences of those decisions," he explains.
Both Jackson and Nunn have that background.
Jackson deployed to Afghanistan fresh out of Emory University in 2005 as a member of an Army Reserve psychological-operations team attached to an Army Special Forces unit.
"I was on a very remote desert outpost, really in the middle of nowhere, with a small number of Americans," he describes it now. "We ran a lot of missions. It was the real experience, for lack of a better phrase. It was a very full experience."
Jackson emailed updates to friends and family back home during his year in Afghanistan. Some ended up on the Emory Magazine website in 2016. In one, he described a Taliban rocket attack on his small base.
"In training they teach us that if you hear a whistle, you're dead," he wrote. "Last night I heard three whistles. Everyone seems kind of amazed that no one on the camp was hurt and no equipment was destroyed. … I don't know whether to thank the equipment, the training, or God, but I'm playing it safe and thanking all three."
Nunn, an intelligence officer, experienced three deployments of shorter duration in support of Operations Enduring Freedom, Iraqi Freedom and Inherent Resolve, amassing nearly 1,000 combat hours in RC-135 reconnaissance aircraft.
He says the deployments taught him the importance of finding common ground amid turbulence, a goal he intends to pursue on Capitol Hill.
"Some issues we will just never agree on in Congress," Nunn admits. "But there is far more we can agree on."
Jackson, a Democrat from the Charlotte area, and Nunn, a Republican from the Iowa farmlands, have more in common than continuing military service. Both are former state legislators. They're also family men: Jackson and his wife, Marisa, have three children; Nunn, and his wife, Kelly, have six, including two they recently adopted.
Not coincidentally, Jackson and Nunn joined forces recently to introduce the House version of the Reserve Component Parental Leave Parity Act. The bill would provide all new Guard and Reserve parents with a parental leave benefit similar to what new active-duty parents now enjoy.
"I think making sure that our Guardsmen and our Reservists have the same rights and benefits that our active-duty guys have needs to be a priority," Nunn says.
Guardsmen have a responsibility to keep reminding lawmakers what an asset the Guard is.

—Rep. Jeff Jackson, D-N.C., a major in the North Carolina Army National Guard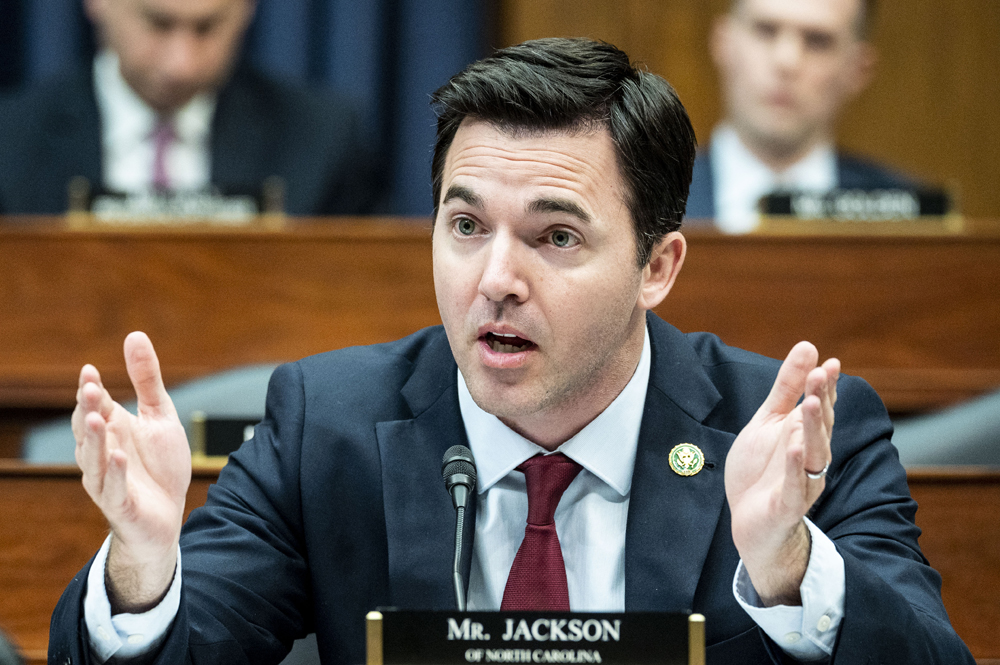 AFTER RETURNING FROM AFGHANISTAN, Jackson set his sights on studying law. He wasn't looking to serve in uniform beyond his initial enlistment. A chance meeting changed that.
"I was walking through the campus of the University of North Carolina [at Chapel Hill] because I was about to start law school in a few weeks," he recalls. "I walked into the ROTC building out of curiosity. A Guard recruiter was there and was like, 'Hey, we'll pay for law school.' I said, 'OK.'"
"I drilled the whole time with a Guard unit while I was in law school," Jackson says. "And then I got my commission upon graduation [in 2009]."
And he has continued to serve ever since. In civilian life, Jackson was an assistant district attorney in Gaston County, North Carolina, from 2011 to 2014, the year he won a state senate seat.
Unable to serve as both a prosecutor and a lawmaker, he went to work for a national law firm with an office in Charlotte. Jackson won reelection to the state senate in 2018, before turning his attention to North Carolina's new 14th Congressional District in 2022.
He defeated Republican Pat Harrigan, a West Point graduate and former Green Beret, in the general election.
Jackson sits on the House Armed Services Committee. He says he spent much of first few weeks on Capitol Hill doing more listening than speaking while educating himself on matters before his panel.
"The way I see it, it's not my job in this moment to have a bunch of opinions," he quips. "It's my job to take the time to develop informed opinions, particularly when it comes to the military. As a member of the Guard, I've gotten a pretty decent bottom-up perspective on what that means and what the needs are. I have to add to that a top-down perspective."
His approach is a product of the counsel he's received from colleagues.
"I just get a lot of drive-by advice," Jackson says. "I think because people know I'm a freshman, they know I'm a good target for advice. Most of it is pretty good."
Some of the best advice he says he's received from a fellow lawmaker concerns keeping his children connected with what he's doing in Washington.
"He would write his kids a letter explaining to them what he was going to do this week while he was away," he recounts. "And that he's kept this up for years and years and years. And now there's a book of these letters. It's like a prized family heirloom."
Jackson is now doing the same for his children.
And now that he is Congress, he has some advice for his fellow members of the force.
"Guardsmen have a responsibility to keep reminding lawmakers what an asset the Guard is, not only to country, but also to our communities," he says. "If you come from a state like mine that is frequently visited by hurricanes, it is of particular importance to have people like the Guard be supported."
Some of my favorite missions were the ones we got to do domestically with the Guard.

—Rep. Zach Nunn, R-Iowa, a lieutenant colonel in the Iowa Air National Guard 2014-2022
NUNN BEGAN HIS MILITARY CAREER as an Air Force officer in 2003. His first assignment was in Royal Air Force Mildenhall in England, where he was able to earn a Masters of Studies in international relations from Cambridge University.
In 2007, he and the rest of his RC-135 crew received the prestigious Gen. O'Malley Crew of the Year Award from the Air Force Association for life-saving air support to U.S. special operations troops on the ground under heavy enemy fire.
He transferred to the Air Force Reserve in 2008 and did tours at U.S. Strategic Command and U.S. Cyber Command at Fort Meade, Maryland. He returned home to Iowa in 2014 to begin a civilian career with the U.S. intelligence community and joined the Air Guard.
Among his more noteworthy civilian positions is director of cybersecurity at the National Security Council at the White House and chief of operations for U.S. embassy counter-threats at the U.S. State Department. He has also served as an adjunct professor of cybersecurity and national policy at his alma mater, Drake University in Des Moines, Iowa.
Nunn began political career in 2014, winning election to the Iowa state house. He was elected to the state senate in 2018 and defeated Democratic incumbent Rep. Cindy Axne in the 2022 general election to represent the state's 3rd Congressional District.
In Congress, he serves on the House Committee on Agriculture and the House Financial Services Committee.
Nunn credits an Air Guard officer, Rep. William Timmons, R-S.C., with helping him settle in. Timmons is a captain and a JAG officer in South Carolina and one of four drilling Guardsmen in Congress (see below).
"We've gotten to learn a lot about each other, share some of the same stories about how it is to be a Guardsman," Nunn says.
Such stories are near and dear to his heart. "I have a lot of guys in my unit who, from spring to fall, are out there working as farmers in the field," he says. "But they're ready to put on the uniform and suit up when duty calls."
An example was the response to the COVID-19 pandemic. Hundreds of Guardsmen assisted local authorities at medical centers and foodbanks across Iowa. Nunn helped run an intel fusion center that identified which of Iowa's hospitals and patients needed assistance.
"The Guard helped make Iowa one of the first states to recover from COVID because we were able to turn the curve and reopen our state safely," he says. "Some of my favorite missions were honestly ones we got to do domestically with the Guard."
Nunn sounds like the squadron commander he was in the Iowa Air Guard when talking about the military matters drawing his focus.
"How do we make sure that the individual has the paycheck that they need, the health care that they deserve and the equipment that allows them to be successful in their field of execution?" he asks.
Nunn says Guardsmen can help him help them.
"Particularly for the members [of Congress] who have served," Nunn says, we very much appreciate them giving us their voice because that's something we can speak to on the floor."
Mark Hensch can be reached at [email protected].
---
Members of Congress with Guard Service
Rep. Brian Babin, R-Texas
Fifth Term
Texas Army National Guard, 1969–1975
Rep. Jack Bergman, R-Mich.*
Fourth Term
Rhode Island Army National Guard, 1975–1978
Rep. Vern Buchanan, R-Fla.
Ninth Term
Michigan Air National Guard, 1970–1976
Rep. Mike Carey, R-Ohio
Second Term
Ohio Army National Guard, 1989–1999
Sen. Tammy Duckworth, D-Ill.*
Second Term
Illinois Army National Guard, 1996–2014
Sen. Joni Ernst, R-Iowa*
Second Term
Iowa Army National Guard, 2001–2015
Sen. Lindsey Graham, R-S.C.**
Fourth term
South Carolina Air National Guard, 1989–1995
Rep. Jeff Jackson, D-N.C.*
First Term
North Carolina Army National Guard, 2006–present (major)
Rep. Trent Kelly, R-Miss.*
Fifth Term
Mississippi Army National Guard, 1985–present (brigadier general)
Rep. Anna Paulina Luna, R-Fla.
First Term
Oregon Air National Guard, 2017–2018
Rep. Barry Moore, R-Ala.
Second Term
Alabama Army National Guard, 1986–1992
Rep. Troy Nehls, R-Texas
Second Term
Texas Army National Guard, 1995–2001
Wisconsin Army National Guard, 1988–1995
Rep. Zach Nunn, R-Iowa
First Term
Iowa Air National Guard, 2014–2022
Rep. Scott Perry, R-Pa.
Sixth Term
Pennsylvania Army National Guard, 1980–2019
Rep. Harold Rogers, R-Ky.**
22nd term
Kentucky Army National Guard, 1956–1957, 1958–1963
North Carolina Army National Guard, 1957–1958
Rep. Robert C. Scott, D-Va.
16th term
Massachusetts Army National Guard, 1970–1974
Rep. William Timmons, R-S.C.
Third Term
South Carolina Air National Guard, 2018–present (captain)
Rep. Michael Waltz, R-Fla.*
Third Term
Maryland Army National Guard, 2016–present (colonel)
Florida Army National Guard, 2002-2011
Rep. Joe Wilson, R-S.C.*
12th Term
South Carolina Army National Guard, 1975–2003
Rep. Steve Womack, R-Ark.**
Seventh Term
Arkansas Army National Guard, 1979–2009
Note: Names in bold are current National Guardsmen.
*Denotes member of the House or Senate Armed Services Committees
**Denotes member of the House or Senate Appropriations Committees