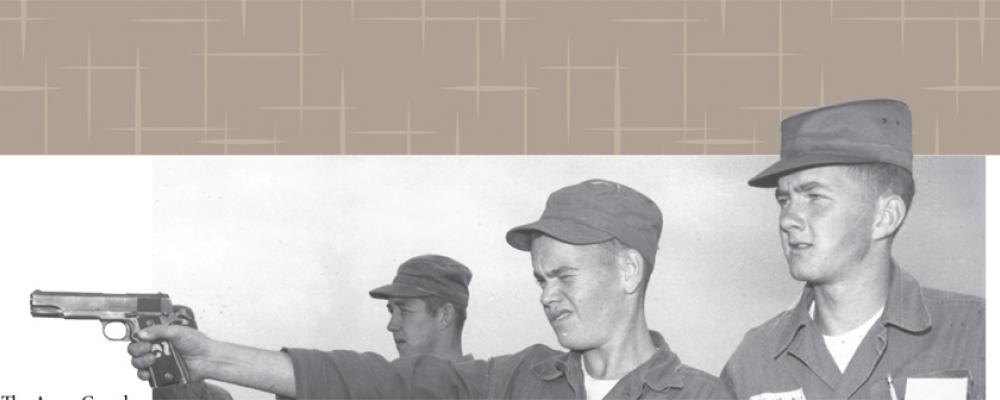 National Guard Magazine |
Weeknight Warriors
Imagine drilling one night a week — every week — after you joined the Army National Guard. Imagine becoming a citizen-soldier without going away for basic training. Imagine that OJT, rather than AIT, was how you learned your military job.
Welcome to retired Col. Frank LaBollita's world as a recruit in the Massachusetts's 26th Infantry Division in 1958. Boston's imposing Commonwealth Armory was his gateway into a Guard career that, over 35 years, led LaBollita from private to full colonel and the state rank of brigadier general. He experienced significant ways in which the Guard came of age.
He was hardly alone. His generation of Guard soldiers after World War II underwent various forms of training until the Cold War spawned the need for better and uniformly trained troops caught up with the Guard beginning in the late 1950s.
The Air National Guard, which was established with the Air Force in September 1947, experienced similar growing pains at the same time.
By 1970, going through Army or Air Force basic and advanced training, drilling one weekend a month and spending two weeks a year at annual training had become the norm for traditional Guardsmen.
Before that? No so much. Different states, even different units, did things their own way as long as they did not jeopardize their federal recognition, according to historians and retired Guardsmen who lived the change.
LaBollita drilled from 7:30 to 9:30 Monday nights after joining in June 1958. "You got a day's pay for two hours," he remembers.
"To be honest with you, based on today's standards, we didn't get that much accomplished," he says. "They issued the weapons, which was crazy because you were going upstairs and stack your weapons someplace, and sit behind a desk and do your OJT. At the end of the drill you had to turn the weapons in. All of that took time. It could have been spent better on training.
His basic training was compressed into his first week of annual training at Camp Drum in upstate New York. "I was sent to what was called Recruit School. We went through the basics of the Manual of Arms — marching, firing the weapon and map reading. Then, when that week was over, I went back to the finance section."
Retired Command Sgt. Maj. John Jackson recalls somewhat different, but similar sounding, circumstances on the other side of the country after joining the 139th Tank Battalion in California's 40th Armored Division in April 1956.
"Our drill dates were on Monday at first and then Fridays from about 7 to 11 p.m. — four hours," Jackson explains. "We trained in the armory on mockups of turrets for the M47 tanks that we were assigned to. At first it was every week and then we put a Saturday in the fix to drive tanks on OJT in the desert outside of the armory — the 'chicken coop' — at the [Antelope Valley] Fair Grounds in Lancaster [north of Los Angeles]."
The armory was called the "chicken coop," he says, because the 10 Quonset huts that formed the compound smelled like the chickens that had previously roosted there.
His basic training encompassed a year — two weeks of annual training, followed by weekly drills, followed by a final fortnight to complete the training, he recalled.
I don't think we were getting what we really needed during the evening drills to defend America.

—Retired Col. Frank LaBollita (Joined the Massachusetts Army National Guard in 1958)
ANOTHER CALIFORNIA SOLDIER, retired Lt. Gen. Herbert Temple Jr., had already been seasoned by combat in Korea, received a direct commission, and given a company command by the time Jackson and LaBollita signed up.
His rudimentary training during weekly drills and his duties as a fulltime supply sergeant with the 160th Infantry of 40th Division in Los Angeles had not prepared him for combat, he says.
"Most of our training was either by training films or lectures," Temple explains. "We had one tank in the parking lot. All that the guys who were part of the recon unit could do was crew drill. They'd exercise the main gun by simply backing up to a building and cocking it, which was essentially exercising the gun itself. But there was no space to drive it around. We had to wait until we got to annual training to train on and use the equipment.
"The training wasn't worth a damn. What are you going to do for a couple of hours?" he adds.
His early training experiences drove Temple to devote much of his Guard career after Korea to ensuring citizen-soldiers were properly equipped and trained to Army standards before he retired as chief of the National Guard Bureau in 1990.
Air Guardsmen seemed to be somewhat better off because flying was a constant concern for pilots who had to stay qualified and people who had to maintain the planes. That training was conducted on the job.
The drill schedule for Massachusetts's 102nd Fighter Interceptor Wing in the 1950s was 6-10 two Wednesday nights and one full Sunday every month at Logan Airport in Boston, says Lt. Col. Bob Faux, a pilot, who joined in March 1957.
That, reportedly, was essentially the routine for many Air Guard units.
The pilots earned their wings at active Air Force bases, but enlisted men were trained at home. "I think that at that time they didn't have any locations for tech schools or anything like that," Faux says. "I know that a lot of the training was done on station."
And it was not exactly the same for everybody.
Senior Master Sgt. Ron Doyle speaks with authority because he served in the Massachusetts Air Guard for nearly 30 years, fol-lowing his father, the late Francis Doyle Jr., who served for three decades and retired as a colonel and Massachusetts brigadier general.
"I know from talking to a lot of people, training was very haphazard because we were always the poor bastardized stepchildren of the Air Force, just like the Army Guard was to the U.S. Army," Doyle said.
"They didn't allocate a lot of different training slots to Guardsmen because they obviously gave precedence to their own [Air Force] troops. I knew guys who performed basic training at home station. I knew guys who went to Sampson Air Force Base in upstate New York. And I knew guys who went to where I went — Lackland Air Force Base in Texas. So it was a mixed bag."
Like most changes, we grumbled a lot but adjusted in a short time.

—Retired Command Sgt. Maj. John Jackson (Joined the California Army National Guard in 1956)
THE EVOLUTION of the National Guard into the force it is today is actually a chain of events that arguably stretch over nearly 120  years, beginning with the so-called Dick Act of 1903, which provided increased federal funding to and federal oversight of the Guard.
There is no single, most significant event. Two key links, however, were forged during the middle of the 20th century. Army Guard historian Michael D. Doubler, the author of Civilian in Peace, Solider in War: The Army National Guard; 1636-2000, calls it "a training renaissance."
First, the Reserve Forces Act of 1955, signed into law that August by President Dwight D. Eisenhower, required Army and Air Guard personnel to go through basic training at active-duty installations. The law did take several years to fully implement, however.
Then, Maj. Gen. Winston "Wimpy" Wilson, the first Air Guard general to serve as chief of the Guard Bureau, mandated in 1966 that all Guardsmen drill one weekend a month instead of one night a week — giving rise to the expression "weekend warriors."
Some 4,400 Army Guardsmen went through eight weeks of basic training, and another 3,600 received advanced individual training in 1956, according to Doubler.
The Air Guard, meanwhile, secured 11-week basic training slots for airmen without prior military service for the first time, reports Air Guard historian David Anderson. "About 80 Air Guardsmen a month, or 1,300 a year, were going to basic training back in the 1950s. It was not a lot, but it was a really good start."
Slowly freed from the burden of providing basic training to recruits, more experienced members of both Army and Air Guard personnel could turn their attention to more a collective training, according to those who served in that era. And drilling for an entire weekend provided units with time to conduct some field training between summer camps.
"The Guard definitely became more professional because now you had more time, and you had to fill that time with meaningful things," LaBollita says. "If you didn't, you were going to lose the soldiers."
That concept had actually been catching on before weekend drills were mandated for all hands in 1966.
Texas and Arkansas pioneered the idea in the Air Guard before the Korean War, says Air Guard historian Charles "Joe" Gross. And by 1954, "unit commanders were authorized to complete monthly training assemblies in two all-day sessions," Anderson says.
The Army Guard also began buying into the idea that was first authorized in 1955. "For the first time, Guardsmen drilled on the weekends rather than during the traditional, weeknight periods," Doubler says. "By the end of 1958, 16% of the ARNG drilled on weekends."
Why was this important? The Cold War was heating up, especially in Europe, where the Soviet Union was tightening its grip on Eastern Europe. East-West tensions had the potential to escalate into a shooting war and the Guard needed to be ready to fight.
"I don't think we were getting what we really needed during the evening drills to go defend America," LaBollita says.
Challenging and changing tradition, however, did not sit well with everyone. For more than 300 years, the Guard had trained its own, on its own schedule.
"Like most changes, we grumbled a lot but adjusted in a short time," says Jackson, the retired command sergeant in California.
"I think it was a transition that needed to happen," Temple adds. "There was not a very loud or universal reaction. Those who were serious about being soldiers stayed and got with it. Those who thought [weekend drills were] an intrusion on themselves and their families got out."
The bigger push back came from the adjutants general and NGAUS. They feared the requirement to send new soldiers and airmen away for six months of basic and advanced training would scare off many recruits.
Temple says the adjutants general even tried to get the troops to write their members of Congress to defeat the Reserve Forces Act of 1955, adding that the top-down effort was not well received in the ranks.
"All the guys in the unit were looking at each other and saying, 'This is why we joined the Guard, to be soldiers. When in the hell are we going to get the chance to be trained?'" he says. Everybody I talk to in my unit said this is the best thing that could ever happen to the Guard. And we said, 'Screw that.' We denied the adjutants generals' efforts to have us write to anybody to object to that.  We  thought it was the best thing to do." 
Bob Haskell is a retired Maine Army National Guard master sergeant and a freelance journalist in Falmouth, Mass. He can be contacted via [email protected].