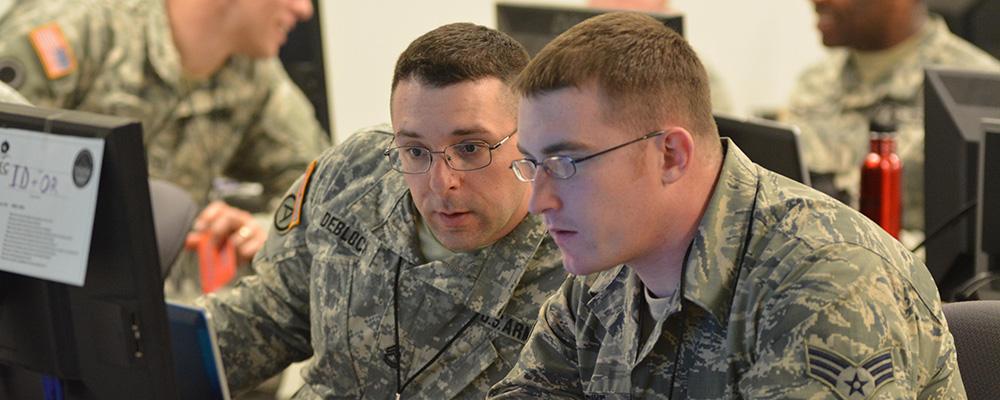 The Issue
The National Guard is and should continue to be a critical partner in developing, planning, and executing the Department of Defense strategy in cyberspace and the space domain.
Recommendations
Ensure the National Guard is fully resourced to support all facets of cyber and space operations and is fully incorporated as an operational reserve component of any future Space Force, which includes improving the current training pipeline for all Guardsmen in these 21st Century missions.
Allow the National Guard to serve as a conduit for cyber operations between federal, state and local governments, as well as private sector.
Establish in each state, territory, and District of Columbia National Guard Cyber Security Incident Response Teams to perform analysis, protection, and respond to emergencies.
Provide additional full-time staffing authorizations to build the Defensive Cyber Operations Element (DCOE) and robust full time support to conduct network defense.
Background
The evolving and persistent array of cyber-based threats to our nation requires action and coordination at all levels of government. The National Cyber Incident Response Plan established a framework for organizational roles, responsibilities and actions to prepare for, respond to, and begin to coordinate recovery from cyber incidents and recognizes that the National Guard is in a "unique position to assist in information sharing, situational awareness, secure communications and incident response.  As an integral part of the Department of Defense's Cyber Mission Force (CMF), the National Guard can easily leverage its member's civilian cyber skill sets to contribute to the long term sustainability of the CMF. The traditional part-time nature of the majority of the National Guard force allows for the Department of Defense to retain well trained cyber warriors after their active duty service. 
Simultaneously, as Congress and the Department of Defense consider new options for enhancing operations in the space domain, the National Guard must be included as an operational reserve component of any future Space Force. Space is critical to national security on multiple levels and National Guard units currently operate within the space domain. Guardsmen in Alaska, Arizona, California, Colorado, Wyoming, and other states provide substantive, substantial, lethal, ready, and effective expertise to the president, as well as to the nation's governors during domestic emergencies. National Guard soldiers and airmen are highly experienced and work as leaders in the space industry. It is essential to the Total Force mission that these Guardsmen continue to bring their unique expertise to the space mission and to any future standalone Space Force.
Point of Contact
J.C. Cardinale
Legislative Affairs Manager, Joint & Personnel