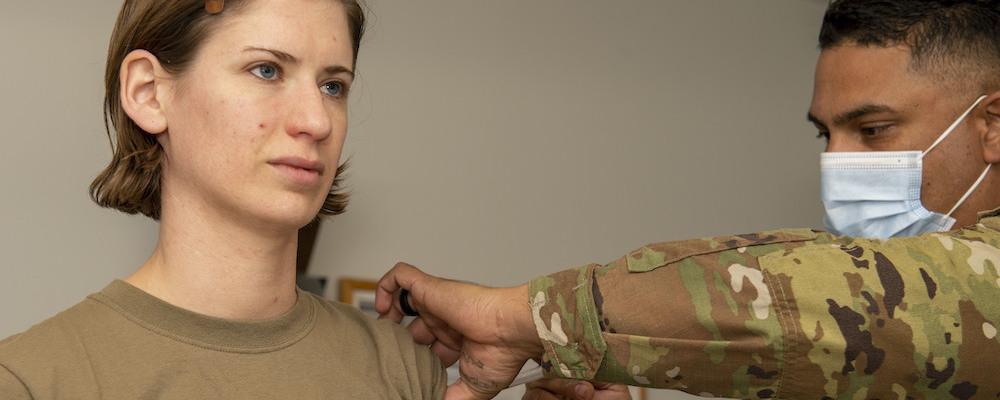 The battle between Oklahoma and the Defense Department over COVID-19 vaccine mandates is heading to the courts.
The state filed a lawsuit against the Biden administration to halt enforcement of a mandate, Gov. Kevin Stitt announced last week. The move came after Defense Secretary Lloyd J. Austin III said in a memo that pay could be withheld for unvaccinated troops without an approved exemption from the vaccine requirements.
Dec. 2 was the deadline for members of the Air National Guard to be vaccinated, under rules announced by the Air Force. Members of the Army National Guard have until June 30, 2022.
According to Air Force Magazine, more than 23,000 airmen and Space Force Guardians from across the Total Force were unvaccinated as the deadline passed.
More than 95% are vaccinated, while thousands of others are currently seeking religious or medical exemptions. Vaccination rates have lagged in the reserve components, which have also accounted for a majority of the military's COVID-19-related deaths.
One day after the deadline for members of the Air Guard, the top National Guard officer announced he had tested positive for COVID-19 following an overseas trip over the Thanksgiving holiday.
Gen. Daniel R. Hokanson has been working remotely and isolating himself, according to the National Guard Bureau. Hokanson is fully vaccinated.
The Oklahoma lawsuit over the vaccine mandate comes as roughly 11%, or 200 airmen, failed to meet the Air Force's vaccination deadline. Oklahoma leaders have said the mandate does not apply to their Guardsmen if not on federal orders. About 40% of the state's 6,200 soldiers are currently vaccinated.
In a memo last week, Defense Secretary Lloyd Austin III said members of the National Guard who refuse to be vaccinated against COVID-19 would be ineligible for federal training or pay, including monthly drill weekends.
Austin called on the Army and Air Force secretaries to bar unvaccinated Guardsmen from drilling and to withhold federal funding. The memo came after the defense secretary denied Oklahoma's request for an exemption from the mandate.
"No credit or excused absence shall be afforded to members who do not participate in drills, training, or other duty due to failure to be fully vaccinated against COVID-19," he said.
But following weekend drills in Oklahoma, Stitt said unvaccinated airmen did participate and were paid using federal funds despite Austin's memo.
"President Biden isn't holding active duty paychecks hostage right before Christmas, and I won't let him do it to Guard members under my command," the governor said on Facebook.
According to reports, Air Force officials had yet to issue guidance to implement Austin's orders ahead of the weekend drills, so the National Guard Bureau permitted the payment of airmen despite the Dec. 2 deadline.