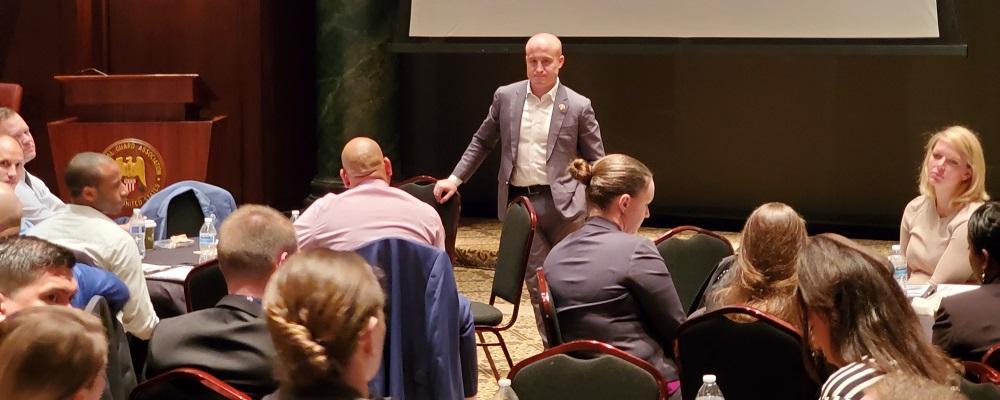 Rep. Max Rose, D-N.Y., understands, better than most on Capitol Hill, the challenges of being a National Guard company-grade leader.
One of nine Guardsmen currently serving in Congress and a captain in the New York Army National Guard, Rose has seen the increasing demands being placed on Guardsmen firsthand.
"I remember being a company commander and thinking, 'How are we going to do all this?'" he said.
Speaking to nearly 50 company-grade and junior warrant officers attending NGAUS's National Capital Summit, Rose expressed his thoughts while also fielding questions, concerns and observations from attendees representing nearly every state and territory.
Rose spoke on the third and final day of the workshop. Attendees also heard from Lt. Gen. Daniel R. Hokanson, director of the Army National Guard, and visited with members of Congress and senior staffers on Capitol Hill.
The workshop, held for the third time this year, is designed to give Guardsmen an up-close view of the legislative process and the role NGAUS plays. The association covers all costs and hosts three workshops each year.
Rose, who was elected to Congress last year and is a veteran of the war in Afghanistan, said he wants the nation to better understand the sacrifices Guardsmen are making and how the nation is increasingly relying on the part-time force.
The demands of that service grows as the nation, involved in perpetual war since Sept. 11, 2001, risks overstretching its military.
"It appears that America's strategy right now is to lean more on the Reserve and Guard," Rose said, detailing how what was once a "break in case of war" force has instead become an operational force. "The problem that I find is that we have acted as if that does not come without cost."
The increasing demands on the Guard must be met with a new look at Guard benefits, he said. He also said more work needs to be done to address Guard suicides and acknowledge the added stress that comes with balancing military, civilian and family life.
When asked, the majority of Capital Summit attendees admitted to doing Guard work in their off hours and without pay to meet the demands placed on them.
Rose said all service members, regardless of component, should be entitled to services to help them cope with those stresses.
Today's Guard is a largely part-time force filled with people who go above and beyond, the congressman said. And the time is now to consider what must change and how the force may evolve for the future.
Through it all, Rose said what likely won't change is the core mission of the Guard itself: "to build mentally strong, intellectually flexible, versatile teams that are ready to hit the ground running," for both domestic emergencies and overseas conflict.
For more information on the Capital Summit and future NGAUS events, visit ngaus.org/events.